/photo view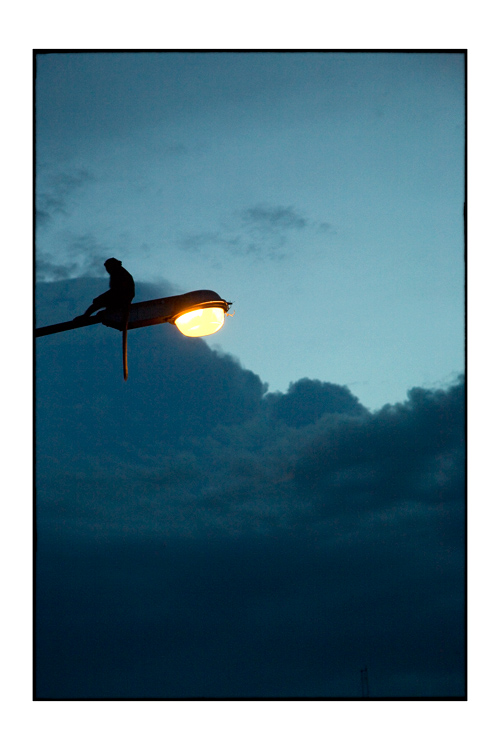 end of day
© Simon Kolton

(20-02-2008)

<

lopburi

<

Thailand

<

Asia

PHOTO DESCRIPTION

I will close this project with this picture. in evening like the vampire, many monkey go in temple for sleep.

| | |
| --- | --- |
| APN | Canon Canon EOS 5D |
| Registred camera | CANON Canon EOS 5D with CANON EF 70-200mm f/2.8L IS USM (Reflex camera) |
| Orignal filename | img_6696.jpg |
comments
06/29/2008
Another fantastic idea. The lonely watcher on the lampost, like neo-gothic character. You've given this small silhouette so much personality and aura. But what really makes it work so well, for me, are the clouds. The way the line off those full, fluffy clouds bisect him like that. That's just fabulous. And the color of the sky is phenomenal. -h.

02/21/2008
Haha... I'll miss your litttle monkeys Simon... that tail is priceless... a wonderful minimalist shot, like Eric, I also thought it was an airplane... a great series Simon, will comment on it shortly too.
If you're cold in Paris, at least be comforted: here it is minus 27C and bloody windy! Ah! :)
sasa
02/21/2008
Hello Simon,
i like this Vampire monkey siting on the electric moon and the feeling of the dark coming.
very simple on composition and tones but beautiful.
a nice way to end you project .

Tom
02/20/2008
Hello Simon,

Excellent ! Very well seen.
Marie

02/20/2008
A wonderful, quiet image Simon. I love all the negative space and the clouds and sky give it a hopeful feel. This is really nice sir.
02/20/2008
You are a true lens poet, Simon and an inspiation to amateurs like me. Everytime I see another of these lyrical shots I jst want to rush outside with a camera ;o)
Lovely return to this moody and moving project. Nice silhouette work!

02/20/2008
the funny thing about this photo is that just seeing the thumbnail, i first thought something was sitting on a plane ... So this is very adequate to quit this pro-series and to cheer your return to Paris... It is all in the sky once again... Love is indeed in the air!