/photo view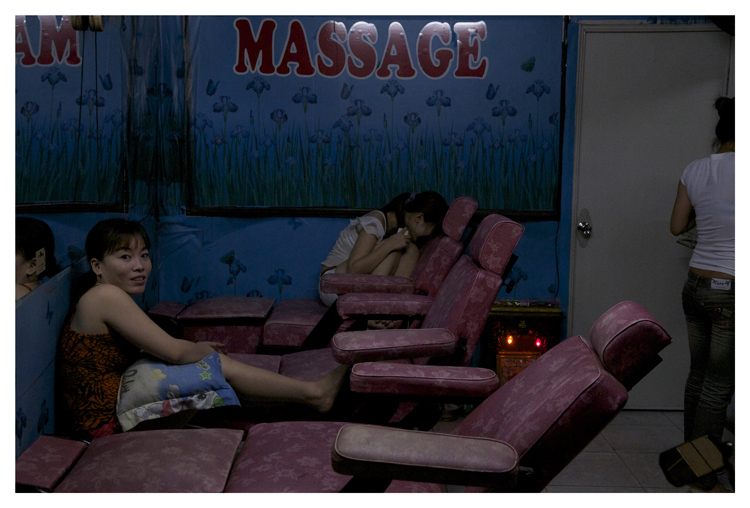 Massage
© Cristian Tomescu

(29-04-2010)

<

Ho Chi Minh City (Sgn)

<

Vietnam

<

Asia

PHOTO DESCRIPTION

self explanatory, I think :-)
| | |
| --- | --- |
| APN | NIKON CORPORATION NIKON D300S |
| Registred camera | NIKON CORPORATION NIKON D300S (Reflex camera) |
| EXIF information | f:5 - 1/100 - 1250 ISO (no flash) |
| Orignal filename | massage.jpg |
comments
07/18/2011
Two of them clearly do not wish to be photographed... which is no surprise when you realize that MASSAGE is pretty much synonymous with PROSTITUTION in VN, something I found exasperating because I actually like a REAL massage such as you can get in Thailand without all the heavy pressure in VN about "Happy ending" and extra tips, God!
Of course here it looks more like a foot massage place with all the punters lying next to each other but man, trying to get a regular full body massage without "extras" is a Quixotic quest in the People's Republic.
Great color and "feel" for the place - the photo is saved and positively shines thanks to the one girl who looks straight at you while her sisters try to disappear.
07/15/2011
Like Juzo I also like the third woman but would prefer if she was adding a bit more to the image. Good work overall.
07/15/2011
Although the demons of cyber-technology and website bugs etc conspire that I can no longer post here, it seems I can still comment at least, yay, I agree with Frank that the colours and the expression match so well, but I actually like the third woman, partially obscured, she makes the shot feel like a real photo...a snapshot.. a moment of life rather than an edited or contrived moment, I like the natural, unfettered feel of your shots Cristian. These days, I am not taking photo's. but I know what I like and this is really appealling.
07/15/2011
Yes I remember this one. I like the color composition, very Asian style. They seem to be surprised by the long nose behind the Nikon and their gestures are funny and charming. The cropped woman on the right side does not really fit for me. There is no story of three I can see here. My instructor at NYIP, Beth Green would say: Simplify. Crop her completely.