/photo view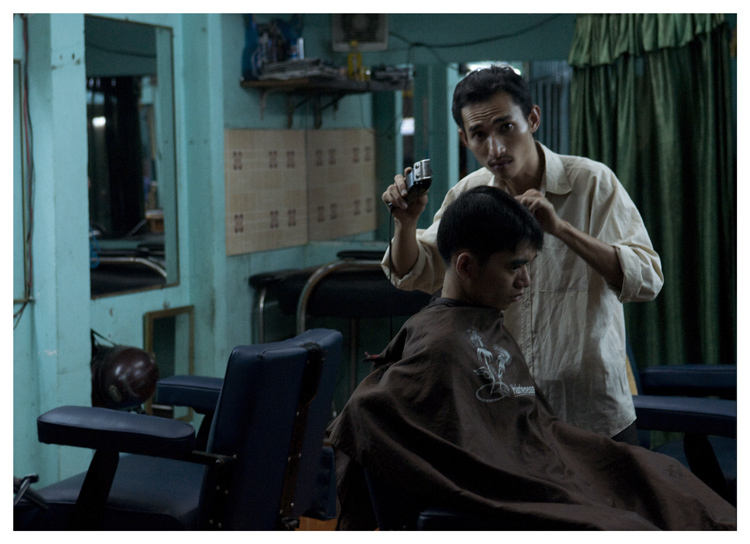 Haircut 2
© Cristian Tomescu

(29-04-2010)

<

Ho Chi Minh City (Sgn)

<

Vietnam

<

Asia

PHOTO DESCRIPTION

more mementos from the bowels of Binh Than ...
| | |
| --- | --- |
| APN | NIKON CORPORATION NIKON D300S |
| Registred camera | NIKON CORPORATION NIKON D300S (Reflex camera) |
| EXIF information | f:4 - 1/100 - 1250 ISO (no flash) |
| Orignal filename | haircut small.jpg |
comments
07/05/2011
Please allow me to be the dissident voice here :)
Although I really like the scene I find it too dark (we had this discussion before)
No way that barbershop is that dim...

07/03/2011
I like these muted tones, I cannot seem to get such tones on my own Nikon, which tends to make colours and contrasts look awful,,,unlike this, which the colours are natural, muted. This is one of my faves of your Cristian, I simply love the expression of the barber.
07/01/2011
Blue hues are to die for, very Luko-like.
07/01/2011
I'm with Frank-peter all the way - one of your loveliest "Nocture" shots, Christian, full of your usual subtlety and delicacy. WHatb a beautiful BLUE...

06/30/2011
It´s always a good place to take pictures in these shops. I like the bluish greenish tones and how he holds on for a second for critical glance on the photographer. Framing is perfect.