/photo view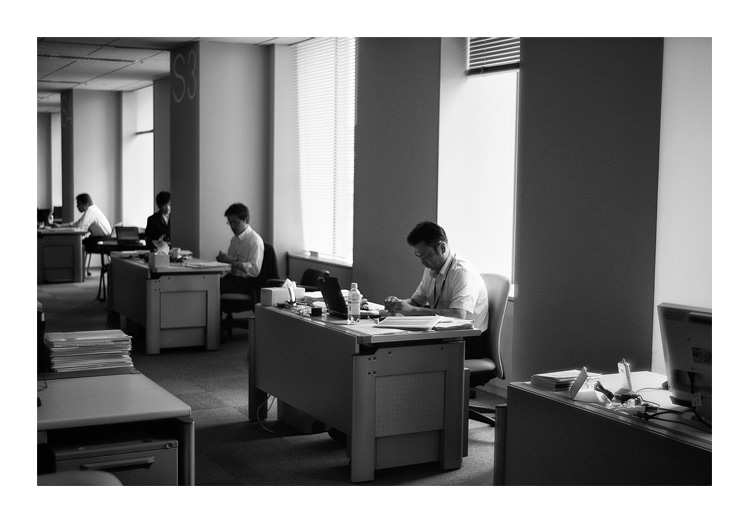 Madmen
© Francis Harrison

(24-02-2009)

<

Tokyo-to

<

Japan

<

Asia

PHOTO DESCRIPTION

As electricity constraints continue thanks to the nuclear disaster down the road, we still work in semi darkness half the time, giving the office the air of a different time, the Sixties maybe, a Japanese version of "Madmen" perhaps...

Leica 35mm Summilux F1.4 (pre-asph)

| | |
| --- | --- |
| APN | ---- |
| Orignal filename | madmen ph.jpg |
comments
06/13/2011
Gorgeous photograph, beautifully lit and with beautiful tones. That ORDER - I have never seen it in British or continental European open space offices. . .

Leica Summilux M? I thought you had taken that step forward (or back?) from the X100 and joined some of us in the haus of the roter punkt. But having seen your reply to Kaj, you must be testing the GXR Module M [unless it is a bluff? :-) ]

06/10/2011
Yes. It's a nice photo, but I find it very similar to 'Dancing in the Dark'. But I find that one to be a more powerful image. I like the glow off some of the objects, Is that from the lens itself?

What's with the exif data? It says 2009 (and a ricoh)!
06/09/2011
I faved it the moment I saw it this morning. The light is superb...

06/09/2011
Hi Francis,

Yes! More photos from the office. I love to see these work interiors of yours..I'm fascinated by them.

The title is almost self-explanatory...Quite a clinical space, though still has some charachter. All the things you would expect, with some nice personal touches. Nice light on your main subject..