/photo view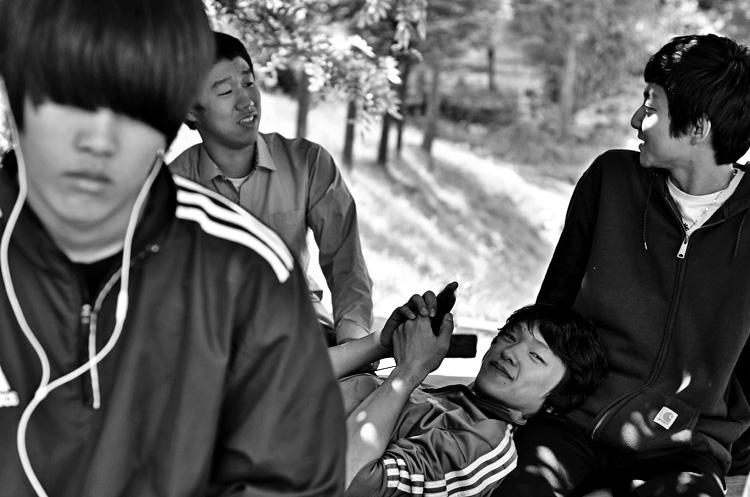 Outta the Heat
© Will Jackson

(25-05-2011)

<

Kyonggi-do

<

Korea, South

<

Asia

PHOTO DESCRIPTION

OK, I know these guys, students of the high school that I work at. I guess they're comfortable with me taking pics. The guy at the front had no idea I was there. His hair is too long.
| | |
| --- | --- |
| APN | NIKON CORPORATION NIKON D7000 |
| Registred camera | NIKON CORPORATION NIKON D7000 (Reflex camera) |
| EXIF information | f:4 - 10/2500 - 200 ISO (no flash) |
| Orignal filename | boys4[1].jpg |
comments
06/09/2011
Great that you are so comfortable around these people and vice-versa. Would be great to exploit that more..why not. I feel it would make a very interesting project.

I feel it is a little too "friendly", however.. I might have preferred a little more distance between them and the lens.



06/07/2011
I agree with the others, it's like a cool band shot, like the Beatles.


06/01/2011
This is genuinely cool, Will, disposition of each person in the frame, the "Beatlish" haircuts, the surprise of finding that fourth guy horizontal below... Cool.

06/01/2011
There is something very pleasant in this picture.
nice !!
••fly••

06/01/2011
Hey Will - looks like a pic of a band .. a korean Beatles?? ;-) Like the light falling on the right guy's face - nice touch.
cheers,
cristian