/photo view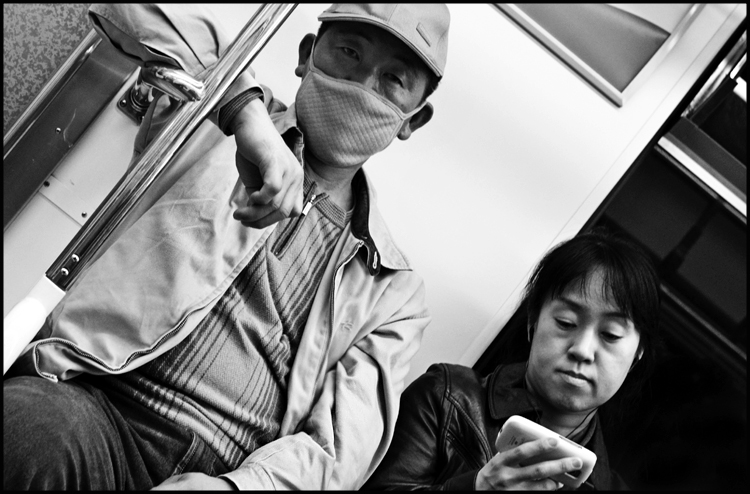 Caught
© Will Jackson

(07-04-2011)

<

Kyonggi-do

<

Korea, South

<

Asia

PHOTO DESCRIPTION

Yes, it's just another subway pic, but I'll carry on. I've had a bit of a drought the past 6 months, but I think I'm over it. This current project is just a rag-tag bunch of images to tie me over until I find a direction to go into. I might follow the public transport route a little. I kinda like the 'in your face' style as it highlights how we all seem to function and act independently even though we're packed liked sardines in a tin. I'll see what happens.

| | |
| --- | --- |
| APN | NIKON CORPORATION NIKON D7000 |
| Registred camera | NIKON CORPORATION NIKON D7000 (Reflex camera) |
| EXIF information | f:4 - 10/800 - 1600 ISO (no flash) |
| Orignal filename | caught2small.jpg |
comments
04/12/2011
Agree with Francis on this one.
cheers,Cristian
04/12/2011
I will disagree with Steve and agree with you here, Will I'm afraid;o) The eye contact is there (unwittingly of course), that is a strong point - the tilt is nice for a diagonal pattern but as you said yourself, - this IS sort of "another subway picture". I say that because with the one starring the two girls, you attained a poetic intensity that really lifted the whole genre higher, and once you do that, Will (believe me) you will always be judged by that standard, and so it should be. I don't want to go off on a lecture here but the best street shooters, from HCB through Winogrand up to Webb, all have a poetic, lyrical dimension. Else all is brutality in the street, you know what I mean?

04/11/2011
Fantastic Will! The best of the series for me
A favorite