/photo view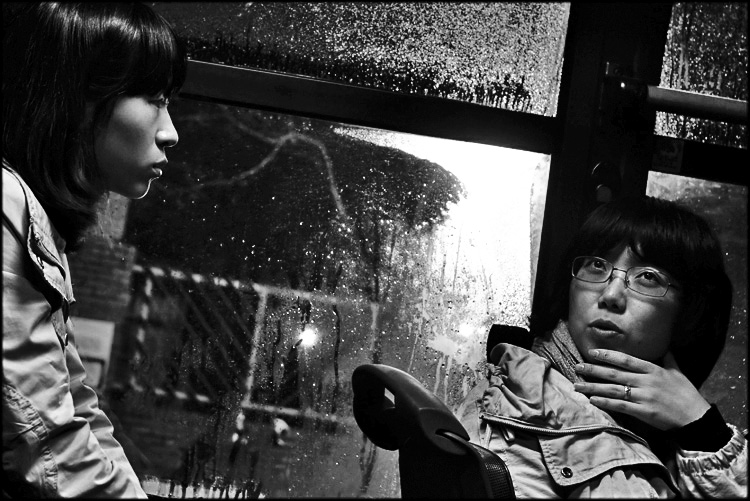 On The Buses
© Will Jackson

(07-04-2011)

<

Kyonggi-do

<

Korea, South

<

Asia

PHOTO DESCRIPTION

Outcropped and from the knee. Well I balanced my camera on my knee and tried to frame it via the live view. We had a load of 'radioactive' rain today, and once again I failed to get any decent shots of umbrellas.

Colour looks pretty good to my eyes, but I think the black and white version is a lot stronger. The mass overexposure is a streetlight.

| | |
| --- | --- |
| APN | NIKON CORPORATION - NIKON D200 |
| Registred camera | NIKON CORPORATION NIKON D200 (Reflex camera) |
| Orignal filename | reupload_bussmallbw.jpg |
comments
04/10/2011
Yep, very nice photograph, especially the left side.
Bravo Will.
nono

04/09/2011
Wow! Love this! A brilliant construction, both technically as wells as in its aesthetics. A photo I would be proud to take! :)

[While I also like the red, I don't like the skin color and the jacket color in relation to the striking red. On the whole, I would prefer the bw version]


04/08/2011
Hi Will, The B&W is stronger for me, the characterictic strong Korean cheekbones are given good emphaisis by this. There seems to be a calm sort of anxiety, if that makes sense, perhaps the rain, maybe they are contemplative. I really like this composition, their expressions and placemensts in the frame are so good..
04/08/2011
Nice, very nice. I prefer the BW here.
Cristian
04/08/2011
A truly excellent image Will! My first though is to go for the color version...

04/08/2011
Everything Luko said + this is a great shot, WIll, you ought to be congratulated - hip, chest or not, who gives a damn, the graphical quality is top, the timing is superb, one of those rare moments when street photography rises to the level of art. The true beauty of this thing is gthe way you have captured the quotidien tension of a relationship - the girl's fierce focus, the guy's dreamy discourse - students, you know, that precious time in our lives. There is a genuine poetic dimension to this shot, Will. All this I wanted to add to Luko's learned discoourse on colour and B/W ;o), just to round things out, eh?

Fav, my man.

ps. The color version is entrancing in its own way thanks to only one thing - the all pervasive RED, the "fire", but overall I guess I'd plump for BW.

04/08/2011
I think this is a beautiful photograph - dynamic and interesting.
04/07/2011
Both versions are great looking at : what's not to like? this is a seldom case of a photo that functions similarly in RGB or BW, I though the contrast and especially the skin rendition for the left handside girl were appropriate to BW then I opened up the first version and saw that spectacular red splash.
I couldn't select which was better suited.