/photo view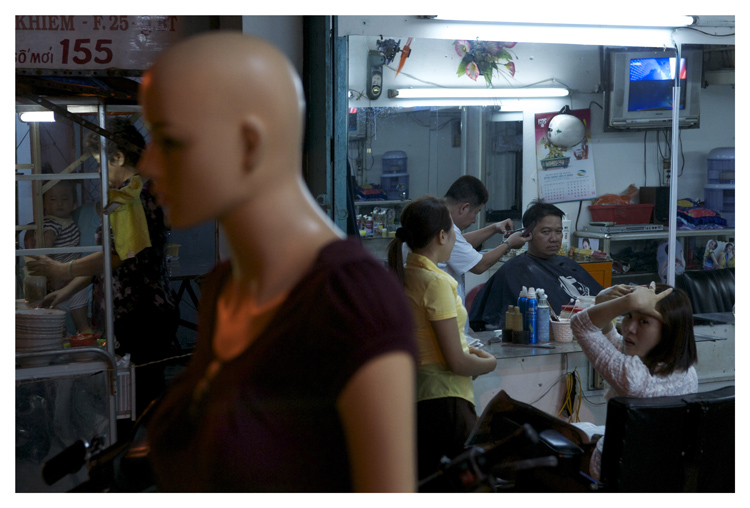 Haircut
© Cristian Tomescu

(29-04-2010)

<

Ho Chi Minh City (Sgn)

<

Vietnam

<

Asia

PHOTO DESCRIPTION

Binh Than area ... grimy, chaotic, smelly, no tourists .... perfect
| | |
| --- | --- |
| APN | NIKON CORPORATION NIKON D300S |
| Registred camera | NIKON CORPORATION NIKON D300S (Reflex camera) |
| EXIF information | f:4,5 - 1/100 - 1250 ISO (no flash) |
| Orignal filename | saigon 11 small.jpg |
comments
04/05/2011
Looks good to my eyes. I like how the dummy seperates the scene, chaotic as it is, into something a bit easier on the eyes.

04/02/2011
Hi Cristian

Quite like this scene - I'm a fan of barber shop pictures:)
It's too dark though...If these where the correct light levels that man's ear is about to be cut off

04/01/2011
Hi Cristian, I like these night walk style themes, there is not only the light and contrasts of the night, but the mystery and the stories it brings. I like this theme, all the little stories, your use of available light and the fact that, like this one, you manage to find someone who engages the camera when you shoot. I saw more on FB the other day, so can't wait to see them here, its a cool series. Cheers.

04/01/2011
Fascinating color quality to this, Cristian. I love what you do (or rather do not do) with color - you go for a certain naturalism that really appeals, including the tolerance for darkness alluded to earlier. The composition here leads to a genuine 3D feeling of depth. A fine photograph in an elegant, understated series.