/photo view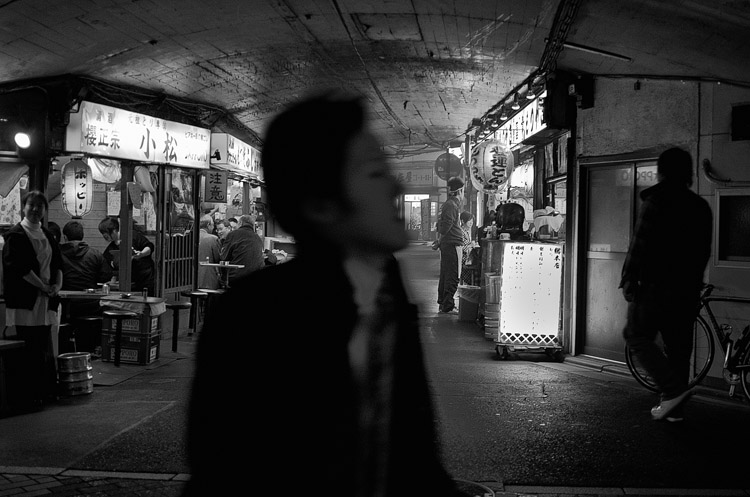 Underground
© Francis Harrison

(31-03-2011)

<

Tokyo-to

<

Japan

<

Asia

PHOTO DESCRIPTION

Under the tracks at Yurakucho life is coming back but it isn't what it used to be. First of all there are hardly any foreigners to be seen anymore, and the locals are fewer on the ground, and subdued...
| | |
| --- | --- |
| APN | PENTAX - PENTAX K-5 |
| Registred camera | PENTAX PENTAX K-5 (Reflex camera) |
| EXIF information | f:2,8 - 1/60 - 800 ISO (no flash) |
| Orignal filename | underground.jpg |
comments
04/01/2011
Foreground Elvis leaving the building? weird fuzzy looking guy walking through a post-nuclear underground scene.

Technical note : Maybe I'm only waking up now, am I reading Pentax K5???
Man, can't you stick to one camera? The 5Dmk2 has the best sensor that is currently available in the industry, the Canon engineers brew the most perfect soup for color rendition, Canon has the broadest lens range you can imagine.
Do you seriously need to change your camera every 6 months?
May I remind you tried all the brands a few years ago, and that Pentax wasn't very impressive with color images except if you liked makeup tones in the yellow-brick red range?

03/31/2011
Really underground and slighty "phantomatic" too. The movement, the out of focus and this very dark pictures gives another time a very impressive feeling. Nice job...well...better..."phantomatic" ;-)


Javier

03/31/2011
Another nice shot here. You seem to be getting back into your stride. What about the Vietnam; The Greatest Hits project?

03/30/2011
LOL - I know this spot, of course. Different times, different mood.
CT