/photo view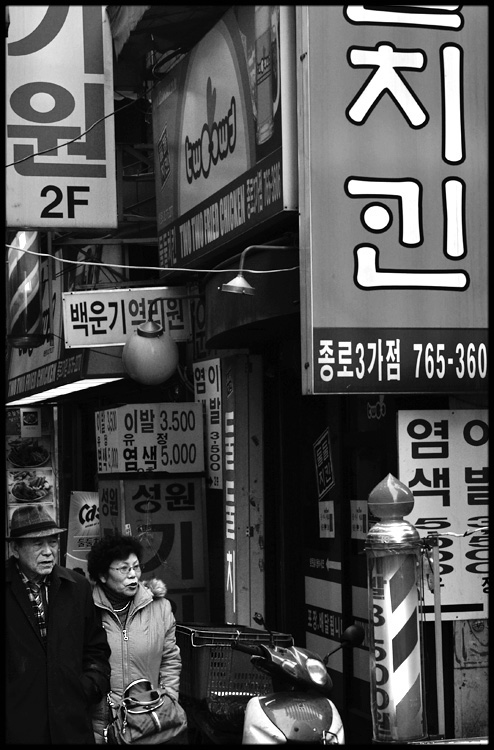 Signs
© Will Jackson

(29-01-2010)

<

Kyonggi-do

<

Korea, South

<

Asia

PHOTO DESCRIPTION

I'll sort out the cat photo next.

| | |
| --- | --- |
| APN | NIKON CORPORATION NIKON D7000 |
| Registred camera | NIKON CORPORATION NIKON D7000 (Reflex camera) |
| EXIF information | f:8 - 10/1600 - 800 ISO (no flash) |
| Orignal filename | signs.jpg |
comments
04/01/2011
Hi Will, I am new here, but very much like the lines and composition here. The hangul script has such a pleasing symmetry and it's lines work in well with the barber shop twirls. The couple makes this all the better, they fit so nicely into this. I am going to Korea in August, this taster makes me even more eager to get there.
03/17/2011
Liked this one since I first saw it. Especially the barber poll. Invokes great nostalgia for South Korea for me, for some reason. Those signs, everywhere, with their incomprehensible symbols. Empire of Signs (pax Roland Barthes).

And Two Two Fried Chicken!!!! My favorite! Oh, man, that really gets my mouth watering. :)

03/14/2011
Yo will, beautifully structured photo along the vertical, everything, from the garsih hangul sgns to the couple in the bottom left corner, falls just right. Great upload, man!