/photo view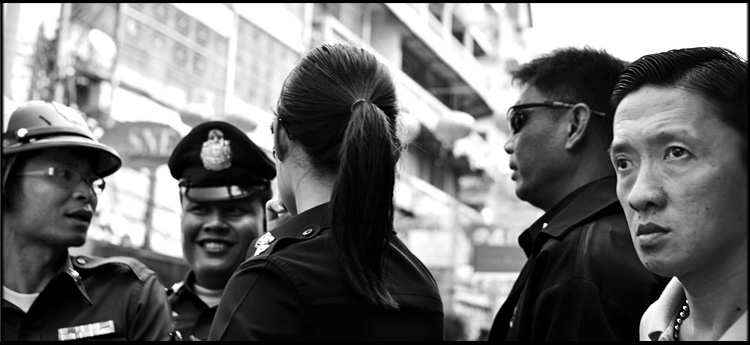 BKKPD
© Will Jackson

(19-01-2010)

<

Bangkok

<

Thailand

<

Asia

PHOTO DESCRIPTION

From the hip, obviously. Might explain the odd focusing and the 'wide-screen' format.

| | |
| --- | --- |
| APN | NIKON CORPORATION NIKON D7000 |
| Registred camera | NIKON CORPORATION NIKON D7000 (Reflex camera) |
| EXIF information | f:3,2 - 10/8000 - 100 ISO (no flash) |
| Orignal filename | cops3.jpg |
comments
02/13/2011
Hello Will
Nice to see some more picture about Bangkok, and other view from this city.
Maybe this this the one i like more for now in your series. not alway easy to shoot from the hip.
••fly••

02/09/2011
This is very nice indeed, WIll, a clever and meaningful crop, the thoughful man on the right, your usual corrupt SE Asian cops on the left. You really captured something here beyond the immediate content - something broader and evocative of much more...

02/08/2011
Perhaps my favourite of the four. A nice interplay between the cops in their dark uniforms and the pale interloper on the right (I thought for a moment the reference to 'odd focusing' was meant for him - three Hail Marys and perhaps I'll be forgiven!). Nice too that your hip has picked the lone woman to be the point of focus :-)

Very fine work.