/photo view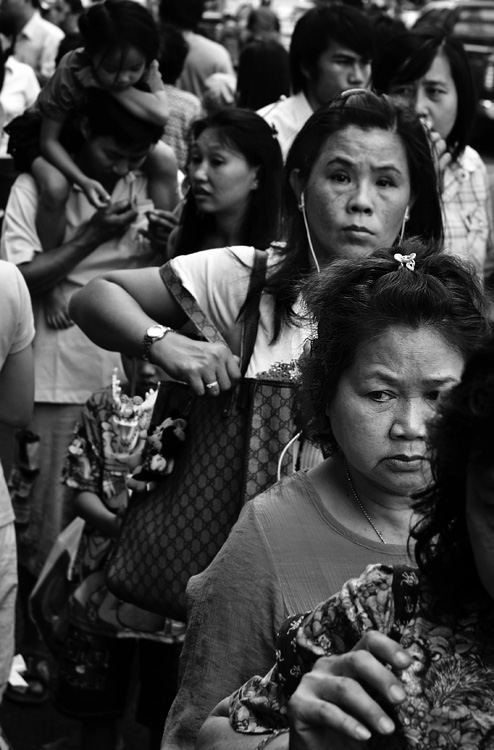 The Stare
© Will Jackson

(19-01-2010)

<

Changwat Mae Hong Son

<

Thailand

<

Asia

PHOTO DESCRIPTION

Pretty heavy crop. Too much of an 'in your face' shot?

Edit.

I've been reviewing a few shots, and I think I've been too picky in my choices and a little afraid of not showing the whole picture. So here's the shot with no cropping. I'll be doing a few uploads from this series.

| | |
| --- | --- |
| APN | NIKON CORPORATION - NIKON D200 |
| Registred camera | NIKON CORPORATION NIKON D200 (Reflex camera) |
| EXIF information | f:4 - 10/4000 - 200 ISO (no flash) |
| Orignal filename | reupload_crowdsmall.jpg |
comments
02/09/2011
Yes my friend Stephen pretty much said it all. Clearly thsi was cropped from a larger frame but a judicious crop it was too, Will. My only query regards the pint of focus, ie on a woman who, although she has an interestingly "sour" face, is NOT looking staright at you whereas the slightly OOF woman above her, is. But althogether this is a cool street shot, adroitly cropped. Nice one!

02/08/2011
Not at all, Will. The three faces placed on the curve from diagonal-to-diagonal work exceptionally well. It doesn't help that the woman looking straight at you is wearing a white blouse so encouraging the eye away from the old vinegar face in the foreground but it is still a very strong composition. I leave it to the King of Bokeh (Francis) to comment on the use of the narrow depth-of-field ;-)

Very nice tones from the D7000.