/photo view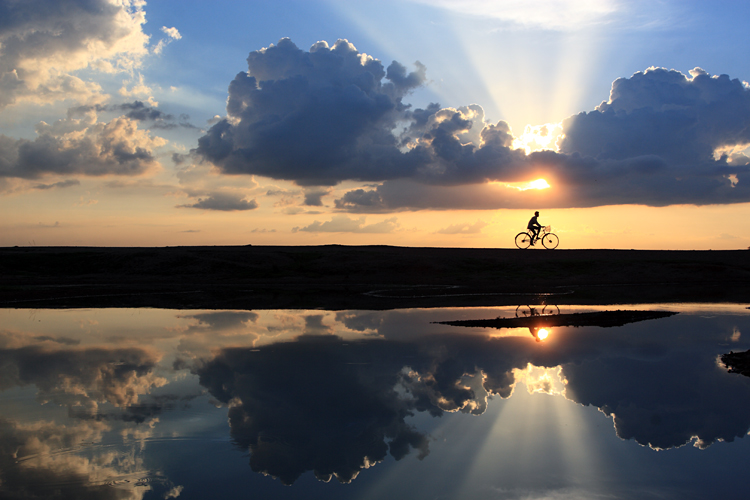 The Cyclist
© Partha Pal

(15-06-2008)

<

Birbhum/West Bengal

<

India

<

Asia

PHOTO DESCRIPTION

A Cyclist Returning home after a days work at City Area

| | |
| --- | --- |
| APN | CANON - Canon EOS 30D |
| Registred camera | CANON Canon EOS 30D with CANON EF 17-40mm f/4L USM (Reflex camera) |
| EXIF information | f:f/9 - 1/160 sec - 100 ISO (no flash) |
| Orignal filename | the-cyclist-photoholic.jpg |
comments
02/13/2011
I like this project a lot Partha.
Especially this frame. It is superb !
Some may criticize some of the pics in the project as postcards, personaly I like them all. Carrefully crafted photography, there is nothing wrong with that.
Didier
02/13/2011
Yes i think i have seen this fabulous picture before Partha ?
anyway this is a pleasure to watch it again.
congratulation a amazing picture
••fly••

02/13/2011
I like how you timed it so, in the reflection, the rider is "capturing" the sun.
02/12/2011
This is stunning!
I've seen them here before I believe...

02/11/2011
Stunning shot, Partha. I ordinarily don't care for most color landscapes - so hard to make them stand out but the layers here and above all the magical presence of the cyclist in silhouette lift the picture very high indeed...
02/11/2011
Great timing, really like the symmetry of this image, another winner.
02/09/2011
Yes. This is a rather delightful shot, Partha. To me it signifies the coming of Spring (in Korea) which I can feel is just around the corner!

02/09/2011
This is a beautiful photo Partha; filled with epic skies and tiny humanity. I've looked at this shot all day and I've thought about whether I needed more in the shot. Really, I don't. Sometimes it's nice to look at a pretty photo...just like it's nice to hear a pretty melody as opposed to one of john Coltranes epic flights. The details are fantastic and I'm reminded of some sort of Wizard of Oz post storm deleted scene here...
What will be telling though Partha, is how this fits into a series of photos...