/photo view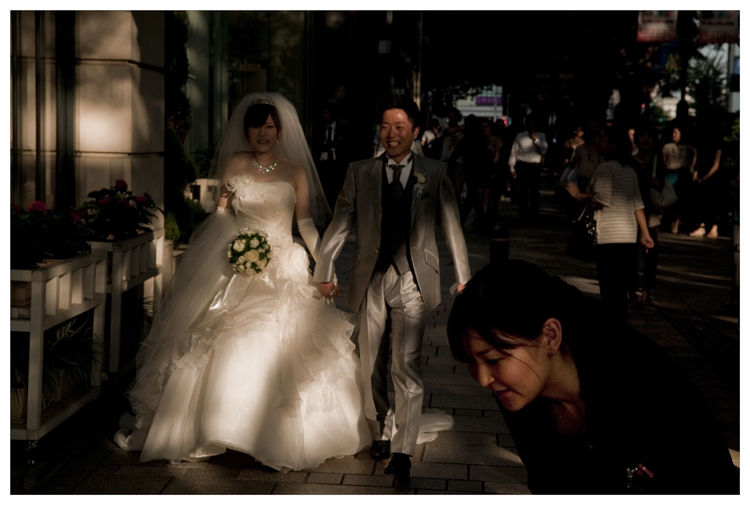 White wedding
© Cristian Tomescu

(08-10-2009)

<

Tokyo-to

<

Japan

<

Asia

PHOTO DESCRIPTION

Omotesando-dori, Tokyo.

Brightened up the foreground girl's face (thx for good observation, Luko)

| | |
| --- | --- |
| APN | NIKON CORPORATION - NIKON D300S |
| Registred camera | NIKON CORPORATION NIKON D300S (Reflex camera) |
| EXIF information | f:8 - 1/640 - 200 ISO (no flash) |
| Orignal filename | reupload_white wedding 1.jpg |
comments
04/13/2011
Aaaah - I think I am going to answer my own question, that I put to teh community in my last posting.. I am trying to figure how to make documentary images out of paid work..This is a great example - perhaps not one for the family album, but I think it is the inclusion of what is not normal into the frame..without "the head girl", (lets call her), even with the beautiful lights, would perhaps not be quite as interesting..Thank you. I have learned something today!
01/10/2011
Like everyone else has said, the lighting is beautiful in this shot. What I find most interesting is that you've taken a lighting situation a lot of wedding photographers would consider the bane of their existence and turned it on its head, producing something quite memorable.

01/06/2011
What a f****g great lighting! If only you had a tad more on the foreground woman's face!
You must have had a photographic ball that day.
01/06/2011
Once again I echo everything ANimesh said so eloquently. A wonderfully nuanced shot, demonstrating once more your willingness to paint at the edge of darkness.

01/05/2011
Lover the superb play of light and shadow. The girls face in the front of the frame made this one.