/photo view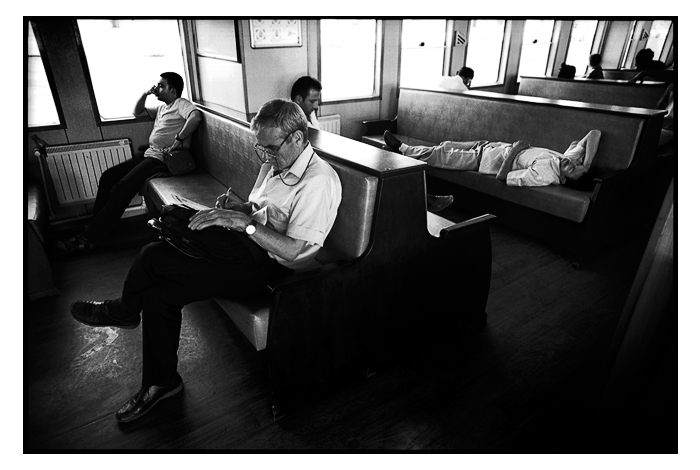 HZ03
© luis duarte

(18-11-2010)

<

Istanbul Ili

<

Turkey

<

Europe

PHOTO DESCRIPTION

Ferry Eminonu
| | |
| --- | --- |
| APN | ---- |
| Orignal filename | untitled-2.jpg |
comments
12/02/2010
A static image, frozen in time slice of life, but very well spotted scene with all these guys doing something different and the heads fading away down the isle of the boat. No distractions, just the essentials to emphasize the scene. And I really like the stark tonal contrast.
regrds,
Cristian
12/02/2010
A static image, frozen in time slice of life, but very well spotted scene with all these guys doing something different and the heads fading away down the isle of the boat. No distractions, just the essentials to emphasize the scene. And I really like the stark tonal contrast.
regrds,
Cristian
12/02/2010
A static image, frozen in time slice of life, but very well spotted scene with all these guys doing something different and the heads fading away down the isle of the boat. No distractions, just the essentials to emphasize the scene. And I really like the stark tonal contrast.
regrds,
Cristian
11/19/2010
I agree with Francis in saying that the image is not poetic, but I don't view it as it weakness, infact I love cut and dry atmosphere which matches perfectly the scalpel like precise geometry and composition of the image.

It's one of those that doesn't blow you away, but with time it grows stronger and stronger.
11/18/2010
No critique from me... this is a fine image. All those heads popping up over those benches, the sleeper... and the men in the foreground are more then enough to make this highly interesting. All this coupled with the wonderful diagonal make this a great add to this set.
You truly are a great photographer Luis!

11/18/2010
Not quite as powerful as the previous images but another excellent B&W image, clearly demonstrating an atmosphere of ennui.
11/18/2010
Perhaps not as immediately "poetic" as the others, Luis, but extremely well seen and composed and absolutely in keeping with the theme of the series. Reallt an outstanding project in every way.
-F-