/photo view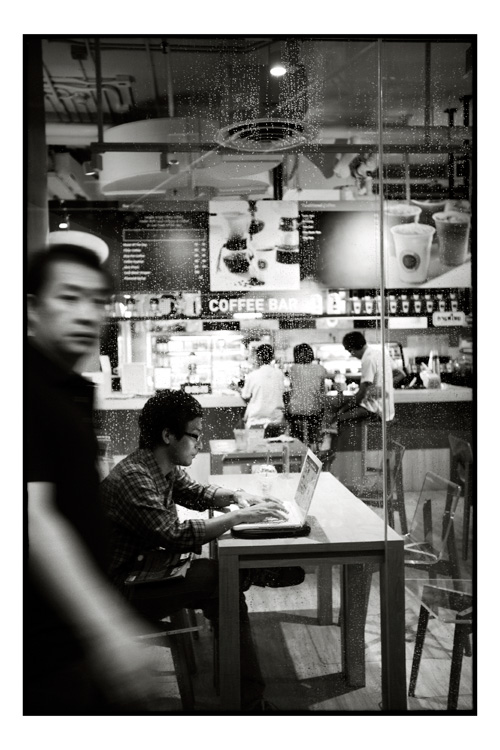 walking, working, drinking.
© Simon Kolton

(16-10-2010)

<

Bangkok

<

Thailand

<

Asia

PHOTO DESCRIPTION

A part of the street in 3 layers.

| | |
| --- | --- |
| APN | Canon Canon EOS 5D Mark II |
| Registred camera | Canon Canon EOS 5D Mark II with CANON EF 35mm f/1.4 L USM (Reflex camera) |
| EXIF information | f:2,8 - 1/25 - 800 ISO (no flash) |
| Orignal filename | 10_10_8818.jpg |
comments
11/18/2010
I love this layered image Simon. I see your style all over this one actually...Those raindrops and the way the background is rendered really appeal to me

11/18/2010
I'm going to look at this diferently than Chris, Simon, and I've waited a bit to comment so I could gather my thoughts. Okay, for me, as someone who walks into the same situations as you, and looks for this exact kind of multi-layered complexity, I think the picture is very good. It is an accomplished street shot. Two outstanding aspects of the image:
1. The subtle glass partition with what looks like raindrops on it and the way oit frames the student with his laptop
2. The motion blur of the man at left who has "seen" you
You see, we are so used to the "click" look of many of your images that we may be startled by a rawer image from you, but really, as someone who shoots (badly or not) in the street all the time, "chapeau!"
Just my two cents...;o)
11/15/2010
Figured I'd stop in to see what's what...I don't think this photo does your talent too much justice. It's a little pedestrian for you Simon; your stunning wide angle portraits and the intimate scenes that you always show...this is missing those elements for me. Does that in itself make this photo unsuccessful, not necessarily. What I can say is the shot seems to be weighted to the left, which leaves it unbalanced for me...not only that, but the guy is looking at you, and somehow that distracts from my idea that this should just be an anonymous scene from passing life...