/photo view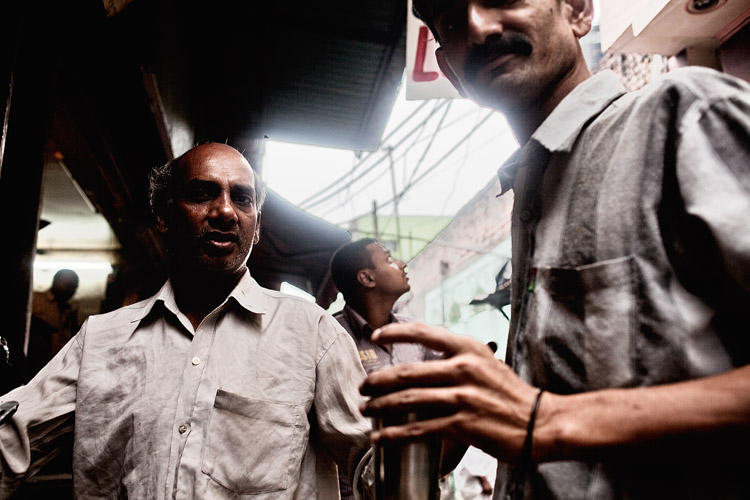 And there is always chai
© Francis Harrison

(21-09-2010)

<

Union Territory of Delhi

<

India

<

Asia

PHOTO DESCRIPTION

The monsoon rain came down like a sheet, turning the side streets to runny mud, but there is always chai to warm you, and anchor you for a spell in the crazed vortex that is Pahaganj...
| | |
| --- | --- |
| APN | Canon - Canon EOS 5D Mark II |
| Registred camera | Canon Canon EOS 5D Mark II (Reflex camera) |
| EXIF information | f:4 - 1/60 - 100 ISO (no flash) |
| Orignal filename | theres always chai.jpg |
comments
10/24/2010
I think that guy in the middle looking up makes this one special. That's that surprising element that you look for to turn the snapshot into the photograph, as it were. (I've never really liked that distinction, but I don't have a better one, and it's conventionally understood.) In this case, you have another of those elements, which is the shadowy figure of the man perfectly placed over the shoulder of the subject int he foreground. I really like the washed-out treatment. Not always the direction you go in. The textures you've captured on their shirts are really engaging. With regard to Peter's comment, while I'm not bothered by the lack of eyes from the man above, I kind of wish I could see both of the other man's eyes, rather than just the one, with the other lost in that black hole.

10/21/2010
Like the gritty contrast and processing combined with muted colours, it matches the facial expressions, not sure about the crop at the top and the fact we can't see his eyes, we can see the eye of the guy on the left and imo it makes huge difference.
10/18/2010
C'est bon ça Francis dans la compo. Il y a juste un truc étrange dans le contour du dernier gars et du mur du fond ?

PS: nous avon fait l'achat d'un 7D pour tourner en video a deux cam. il dépote en photo bien plus rapide que le 5D mkII, des que j'ai du temps je vais faire d'autre test.