/photo view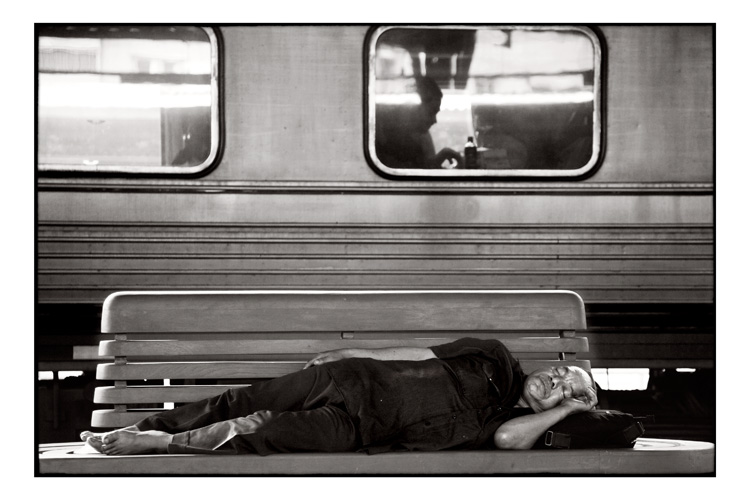 A train passes
© Simon Kolton

(07-01-2008)

<

Bangkok

<

Thailand

<

Asia

PHOTO DESCRIPTION

Bangkok / main train station
sleeping is also a way to travel...

| | |
| --- | --- |
| APN | Canon Canon EOS 5D |
| Registred camera | CANON Canon EOS 5D with CANON EF 24-105mm f/4L IS USM (Reflex camera) |
| EXIF information | f:4 - 1/100 - 400 ISO (no flash) |
| Orignal filename | 08_2789.jpg |
comments
07/31/2010
A pretty complicated image, with the traditional foreground constrasting with the ghostly modern figure on the window. Very nice tonality. Urbane and smart.

07/29/2010
Dreamy feel here. Nice catching the silhouette of the passenger, reflections. Very nice image.
cheers,
Cristian
07/27/2010
Wonderful image again. Horizontal lines have build the image.
Do you have any when the train is moving? Sure it would loose the impact of the passenger in the train window but the lines would be even stronger

07/27/2010
Reflexions in the window really make the difference, agree with Nono, and with Luko about Hitchcok too! I guess I don't have a single original thing to say...;o) Nice work, of course, Fly...
-F-
07/27/2010
Of course a beautiful photograph. But like most of the others, the most interresting part of the photo is the reflexions in the windows.
Congrats Simon.
nono

07/27/2010
Actually, isn't that Hitchcock's illegitimate half-Thai son? Probably dreaming of Eva Marie Saint in a Chakkri....

Lovely photo that works from every point of view, Simon.

07/27/2010
Crop it vertically on each side of the coach window and there you have a Hitchcock movie.