/photo view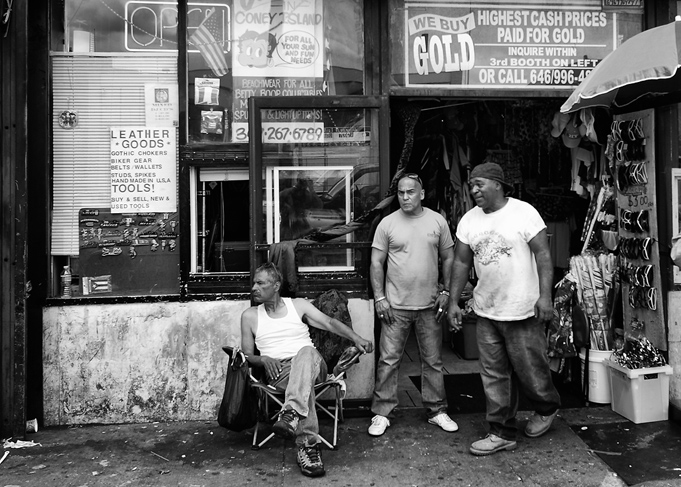 Characters
© Didier Vanderperre

(01-06-2010)

<

New York

<

United States

<

America

PHOTO DESCRIPTION

Coney Island is full of characters, here are a bunch. I am not quite sure what their business was about, pawn shop, convenience store, leather store...
I really wanted to make this shot, but the character in the middle was giving me a look like "Don't even think about it". So I politely ask the permission, and the guy sitting in the chair, who happened to be the boss, burst laughing and said, sure no problem.

| | |
| --- | --- |
| APN | Canon - Canon EOS 50D |
| Registred camera | Canon Canon EOS 50D (Reflex camera) |
| EXIF information | f:4,5 - 1/160 - 100 ISO (no flash) |
| Orignal filename | 10000765 edited 2 lo ph.jpg |
comments
06/09/2010
Nice street work here Didier. It really has this American feel to it. Just love the look on the wise guy

06/09/2010
Keep your distance, Didier!!! These cats look like an urban version of DELIVERANCE!
Good one, full of character. A juicy shot...

06/08/2010
Gothic chokers, indeed!. Love that tough guy giving you the eye Didier. Fantastic freeze frame of street life captured here. Shaping up to be a memorable series here.