/photo view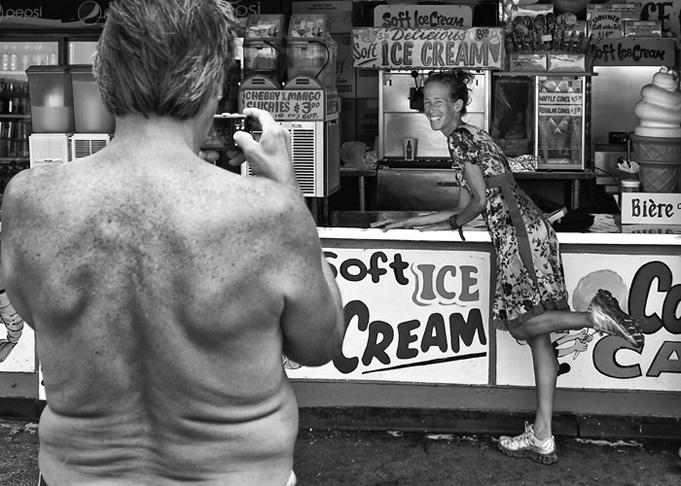 Snapshot
© Didier Vanderperre

(01-06-2010)

<

New York

<

United States

<

America

PHOTO DESCRIPTION

This couple was a pleasure to watch, they had so much fun taking pictures of one another. They were completely oblivious, or more like it could not care less that I was there shooting as well. I hope I was able to convey the sense of happiness and fun they were having.

| | |
| --- | --- |
| APN | Canon Canon EOS 50D |
| Registred camera | Canon Canon EOS 50D (Reflex camera) |
| EXIF information | f:5 - 1/200 - 100 ISO (no flash) |
| Orignal filename | 10000671 edited lo ph2.jpg |
comments
06/07/2010
You can always find characters like these two at Coney Island. As said by others wonderful scene and a really great photo.

06/07/2010
Excellent candid. It's a real nice moment and indeed has a timeless feel to it

06/07/2010
A picture from another time...as Luko said, may be a picture of Erwitt. Really well done.
Hasta la vista,
Javier

06/07/2010
Except for the gilded AirJordan sneakers there's something from the sixties or seventies in it, maybe the kind of Erwitt's bittersweet irony.
Street photo at its best, a good subject with a timing.
06/07/2010
Looks good, Didierv. That's one hell of a skinny girl. I guess her patner would be her direct opposite.

06/07/2010
Great street shot, Didier (perhaps your best so far) - in the great tradition of Coney Island pics. Spot on. A fav for me.

06/07/2010
The ice cream ain't the only thing that's soft, Didier. Great one. Classic Coney characters.