/photo view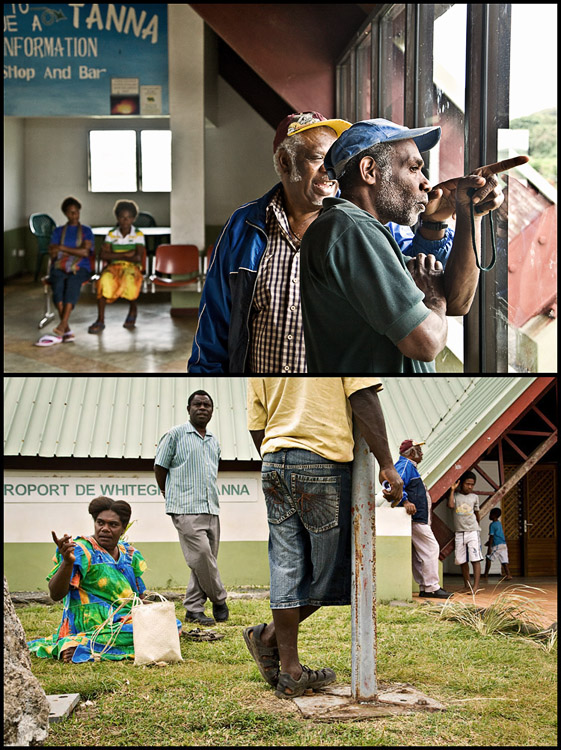 Waetman emi krangi
© Luko G-R

(30-07-2009)

<

Tanna (Tah)

<

Vanuatu

<

Oceania

PHOTO DESCRIPTION

Tanna island, Lenakel Whitegrass airport is an outpost in the wild wild west.

For the few hundred residents it's the area where it all happens : a meeting place, a discussion lounge, a location for the trade of all sorts.

Having a wild pig sat behind your airplane seat is not uncommon. In june 2009, an Air Vanuatu notice hanging on the airport wall apologized to their customers :

"Dear customers, please take note that due to international airline regulations and safety enforcement, we are sorry that from July 1st on, you won't be able to take your rifle inside the cabin, it should be handed to the check in staff and put into the hold.

We sincerely apologize for this inconvenience. Blah blah blah...

Air Vanuatu"

America had won once again.


No more rifle in the cabin, the pig should not take a passenger seat. Who would use a gun in a plane? That is indeed completely stupid, everyone knows a gun is for running pigs... pigs don't run in the airplane... duh!

Waetman emi krangi tumas : Crazy white men!
| | |
| --- | --- |
| APN | CANON - EOS 5D |
| Registred camera | CANON EOS 5D with CANON EF 24-105mm f/4L IS USM (Reflex camera) |
| Orignal filename | 750 lenakel airport.jpg |
comments
05/28/2010
I just wish there were a ''fav'' button for comments. I would sure use it on this one.

It's a funny concatenation, too, with the lower body of one frame becoming the upper bodies in the other frame. Not sure what it means, though (if it has to "mean" anything).

I see Animesh's point. But I can also see why you put them together. The top photo is more of a straight document of a readable moment of camaraderie. The bottom shot is a more interpretive, formalistic, somewhat alientating take. The two balance each other well in that sense.

One also seems to be a shot of suspense (the lower) while the other is a moment of release (the upper).

05/28/2010
I don't know about the diptych, but each frame is strong in its own right and each fits in the series well. I would rather separate them, because I don't see what you get by putting them together.