/photo view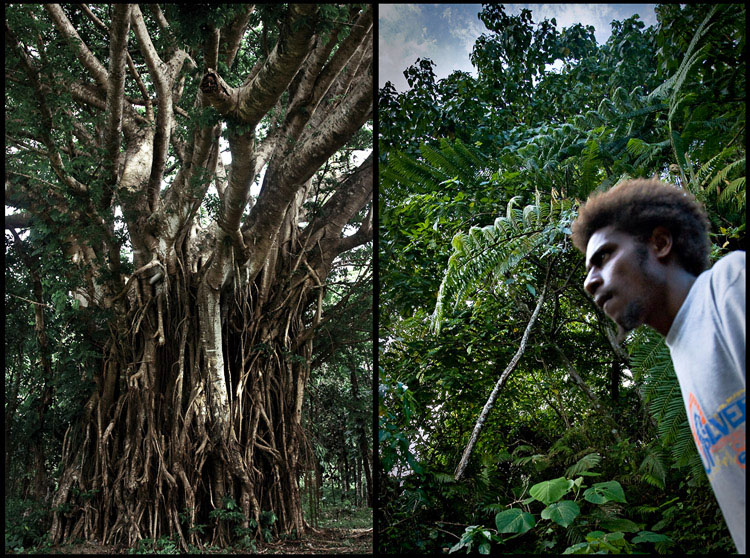 Black magic
© Luko G-R

(29-07-2009)

<

Tanna (Tah)

<

Vanuatu

<

Oceania

PHOTO DESCRIPTION

Tanna is the island of black magic. "We have the best sorcerers and we have the Yasur" Isaac claims.

- "If the Yasur starts to erupt too brutally, the sorcerer picks some leaves, he climbs the Yasur and throws the leaves inside the pot... and it tames down instantly"
- "OK Isaac"
- "If a cyclone comes too close, the sorcerer gets some leaves, climbs up the Yasur and throws the leaves in the air, the cyclone deviates to the next island. (which btw do not have good sorcerers, 'cause they're stupid.)"
- "Ok Isaac"
- "If you know someone you don't like : you tell me, the sorcerer will get the leaves, tell his name, and your foe's on a bad day, whatever you like."
- "Ok Isaac"
- "See the big banyans on your left, that's where the spirit of dead ancestors are dwelling, concealed by the roots. We need these trees : otherwise where would our ancestors go?"
- "Ok Isaac"
- "You see, I like to talk with you L., because you don't laugh to what I say, unlike the other white people".
- " 'cause I know everything you say is true, Isaac."

------------------

Personal note : One of my friends, Morrison -Who I played football with- died in 79 at the age of 15 yo, he had to be amputated of one leg then he contracted a very bad infection a while after a sorcerer had put a packet of tied leaves on the porch of his house. Black magic is no kidding in the islands.

| | |
| --- | --- |
| APN | CANON - EOS 5D |
| Registred camera | CANON EOS 5D with CANON EF 24-105mm f/4L IS USM (Reflex camera) |
| Orignal filename | 750 tanna jungle.jpg |
comments
06/03/2010
Maybe it's because I'm sitting here in the heat, but this has such a visceral impact. Earth mother and her wild son. That tree, so out of control, yet so monumental. That man with his bush of hair and his stare of a hunter. I can almost smell this pair of images. Almost hear them buzzing.

05/28/2010
Now this dyptich works brilliantly.
Great use of green. Somehow that tree looks spiritual even without reading the note.

05/28/2010
This one is right up there in its impact. Intense and magical. Excellent additon to the series.

05/28/2010
Quelle exubérance. Wow !