/photo view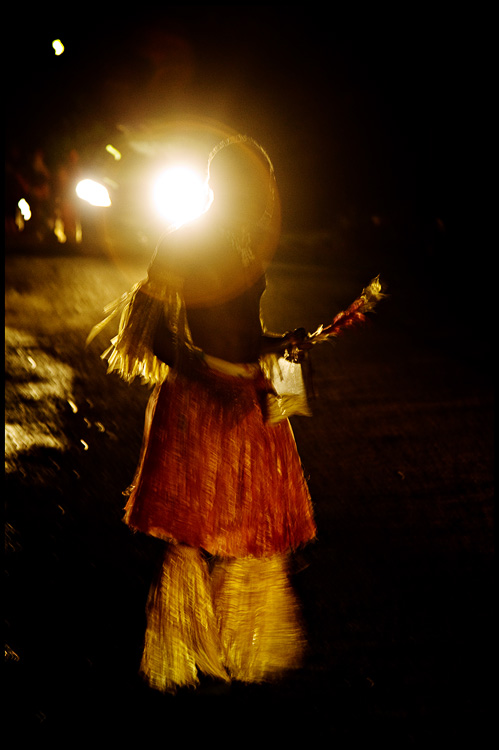 Ghost dancer
© Luko G-R

(30-07-2009)

<

Port Vila (Vli)

<

Vanuatu

<

Oceania

PHOTO DESCRIPTION

Celebration is over, the kids have had fun, time to part... but wherever you go in Vanuatu, tradition and custom will always be waiting on the roadside.


| | |
| --- | --- |
| APN | Canon Canon EOS 5D |
| Registred camera | CANON Canon EOS 5D with CANON EF 24-105mm f/4L IS USM (Reflex camera) |
| EXIF information | f:4 - 1/6 - 1250 ISO (no flash) |
| Orignal filename | 750 futuna dancer.jpg |
comments
05/24/2010
You know, my initial sense of this one was a little closer to amusement than to the kind of bowled-over-by-beauty our colleagues seem to be expressing. I mean, gleaming, glowing loveliness of light aside, it's just this side of kitsch, I think. And at that thought, the lens flare seemed to be just an irritation to me. (And I love lens flare as a rule. I'm a god-fearing, lens-flaring acolyte.) It seemed like a point of interference between this restituted Western gaze and its compliant, polymorphic object of mystery there in the dark. I mean, shouldn't that be a simmering firelight behind the dancing native, setting ablaze all the spectral tropes that lurk in the white man's repressed subconscious? You know, the man in his tribal getup, evoking fire itself, and fear and even gender confusion (c.f. Francis's comment) -- at once a spectacular promise of release and at the same moment a fearsome vision of the incomprehensible and, of course, needless to say, the taboo.

But. . . then (thanks to the magic of photography, which never moves, but just sits there until you recognize it), I come to reconsider. And then what I latch on to -- still trying to assimilate the lens flare that I should like but don't really for some reason -- is that the headlights of the vehicle become that inevitable bridge between modern and post-modern -- the Coke bottle dropped from the plane over the Kalihari, the cough of the spectator in the midst of the aria. And then, suddenly, what I really see here is what that man must see -- which is HIS shadow cast upon the old European with his cameras and his lenses and his timepieces and his tropical tourist's outfit (sewn in SE Asia, sent to Lisbon, and flown back again with him in it). And this man, proud from his evening of showing off his sparkling duds and impressing his family and friends, and maybe even feeling a bit of civic pride for keeping the old ways alive for the next generation -- well, he's seeing this tentative foreigner all it up in the night with the lights of those halogen bulbs, a bit awkward, doing his sneaky photography thing, which is some deeply eviscerated remnant of the old colonial practice of domination, I suppose, and he's seeing that character there in the dark, fumbling around with the rings and buttons of the camera, half obscured in his own shadow, and he's thinking . . . .

Ah, no. Well, no. Of course, no. I have no idea what he's thinking. Joseph Conrad is long dead, and I still have no idea what he's thinking and I won't ever presume to know.

But . . . here's what he might be thinking: 1) That guy sure looks uncomfortable. 2) I wonder if I should ask him for a 100 Vatus for that shot. 3) I should check Facebook to see if my pic ends up there. 4) that's a really nice looking camera. I hope to have one like that some day. ((Or 4a) That looks just like the camera my cousin in Sydney has.)) ((Or 4b) Shouldn't he be using a flash?))

Ah well, I guess the colonial imagination never dies . . .


05/23/2010
Ouaiii, s't va Bob, fais péter le volume ! :)
Jolie photo, et couleurs denses. Les fantomes te poursuivent ;)
Well done, comme on dit par chez nous.
nono

05/23/2010
05/23/2010
WHy be afraid of a little flare, brother? And if it happens to fall right on the head of that girl, that's an added bonus. Again the all enveloping darkness that is such a challenge for shooting - all to your advantage here, as the image positively shimmers (were you deliberately slow shuttering a la Max Pam here?)

All this to say that, like Steve, I find this to be a stunning image, a standout (look at the RED accents you picked up on her skirt...)

Fav for me too.

05/22/2010
Incredibly beautiful!
Likely the best night image I have ever seen here. This is pure gold...