/photo view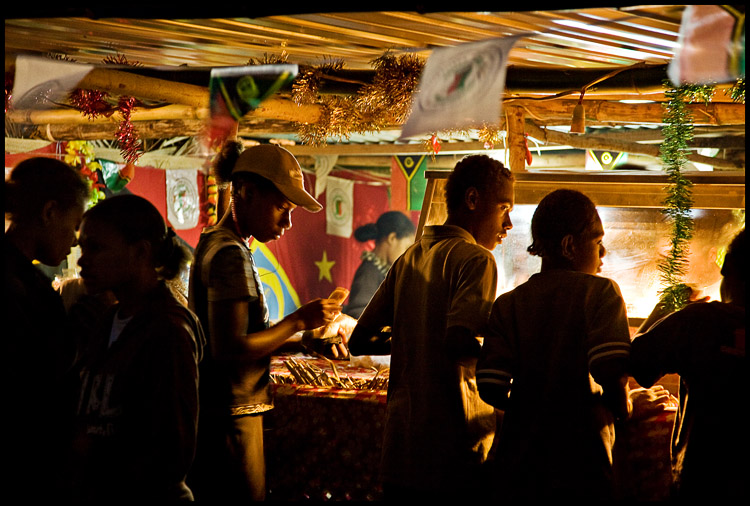 Have to call them
© Luko G-R

(30-07-2009)

<

Port Vila (Vli)

<

Vanuatu

<

Oceania

PHOTO DESCRIPTION

What do you do when you're a teenager an dther's no cinema, no library, and no activities downtown.
Independens day is the day for fun... so exciting : have to call them!

| | |
| --- | --- |
| APN | Canon Canon EOS 5D |
| Registred camera | CANON Canon EOS 5D with CANON EF 24-105mm f/4L IS USM (Reflex camera) |
| EXIF information | f:4 - 1/8 - 800 ISO (no flash) |
| Orignal filename | 750 mobile.jpg |
comments
05/25/2010
L: Beautiful colors - and exposure - lots of shadow, little loss of detail - and a nice halo around the girl.... one of the best of the series. Your stuff can really transport. Have any other presences on the web these days?
05/24/2010
I'm with it -- even though it seems you've got a sub-project going on with this group. Independence Day. Or in your case, maybe it's Groundhog's Independence Day. I guess your lamentations about the lack of cinema, library and such are genuine. But isn't that the case in so many places. And it makes me wonder what we all did before there was a constant media barrage occupying our every hope and desire. You know, I grew up in a small town with no cinema, and only a meager library at that. Gads. How times have changed. Whip out your iPhone and you might as well cast of your body for the duration of adolesence. If your battery charge holds, of course. Which, there in Port Vila, I suppose would be a problem. But wait a second . . . what's that young person in the hat doing there? Texting a friend? As you say, maybe it's a phone call. Either way, I suppose the cardinal points of diversion have changed -- which isn't to say there's nothing for a poor boy to do.

A nod to what Francis said about the Golden Glow. Looks like Christmas in the South Pacific. Deck the halls with national flags. . .

05/23/2010
This works really well, Luko, within that Golden Glow thing you've got going - here there was sufficient light to bring out detail - I sense that lighting here approaches the levels I ran into in Battambang - an enormous challenge for the Epson at the time. You've switched off the technical data so I'm only guessing - it feels like ou might have been shooting with the Eos 400 here (or is the 5D and a 24-105...)

In any case, a wonderful shadow play with focus and timing so rightly on the young dude making the call. Te sorrow and the pity of this place gone to the dogs, so well expressed in your excellent project intro. "Tout ce perd..." A playground for the Aussies, eh?

Fav