/photo view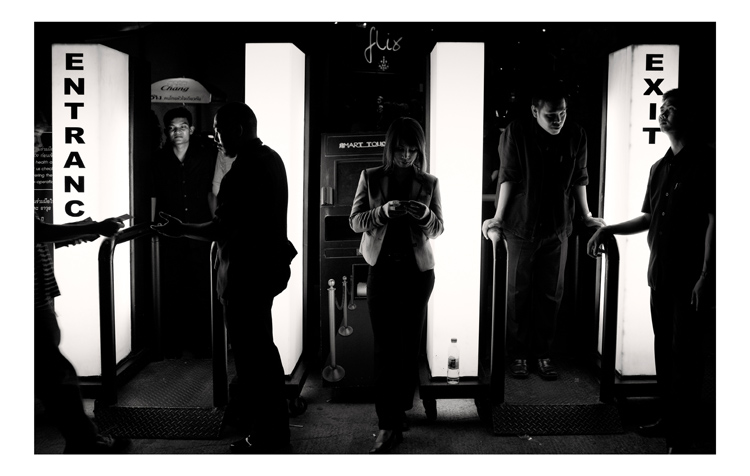 curfew
© Simon Kolton

(23-04-2010)

<

Bangkok

<

Thailand

<

Asia

PHOTO DESCRIPTION

i guess when have a entrance we should find a exit.
About 4 days we have curfew in Bangkok. hope this will ended soon.

| | |
| --- | --- |
| APN | Canon - Canon EOS 5D Mark II |
| Registred camera | Canon Canon EOS 5D Mark II with CANON EF 35mm f/1.4 L USM (Reflex camera) |
| EXIF information | f:3,5 - 1/60 - 800 ISO (no flash) |
| Orignal filename | mg_1201.jpg |
comments
05/26/2010
I think I see that this photo is about patterns, but Simon, I am not sure I appreciate this as much as some before me...I think I might be feeling too thick tonight...

05/25/2010
Image superbement exposée ...étrange cette photo à la fois dynamique car rythmé par les corps, silhouettes et les lumières et monotones de par l'attitude de certains des personnages.
05/24/2010
Yes, just an amazing photo. Forgetting for a moment the allegorical sense, which is certainly powerful in itself, the formal impact is just astounding. Like something staged for a sci-fi film. The poses are incredble -- the exchange of whatever token of exchange (money, movie tix, phone numbers), the woman communicating through her device, the man who leans on the railings as though on some kind of crutches, and the guy looking up to the future . . . you know it reminds me of a social-realist mural. Just a photo full of meaning, interest and relevance.

05/23/2010
Sublime Simon !
nono

05/22/2010
That's really nice use of the artificial light only. The positioning of those people is just out of this world....
Really top notch Simon....fav

05/22/2010
That is truly beautiful, stylish and classy, Fly. Brilliant the way you're addressing this whole military curfew in the CITY OF FUN, all this "inactivity" in Pat Pong, what's the world coming to -;o)))
Seriously I love the way you don't actually document the mess out there but rather approach the whole thing through allegory. This is a "historic" upload in my view.
Fav.
05/22/2010
Awww... totally the style of pics I dig. A celestial alignment of characters happening once every 7 years, interspersing darkness and light.
I wouldn't mind a little more brightness on the people though, just a tad...