/photo view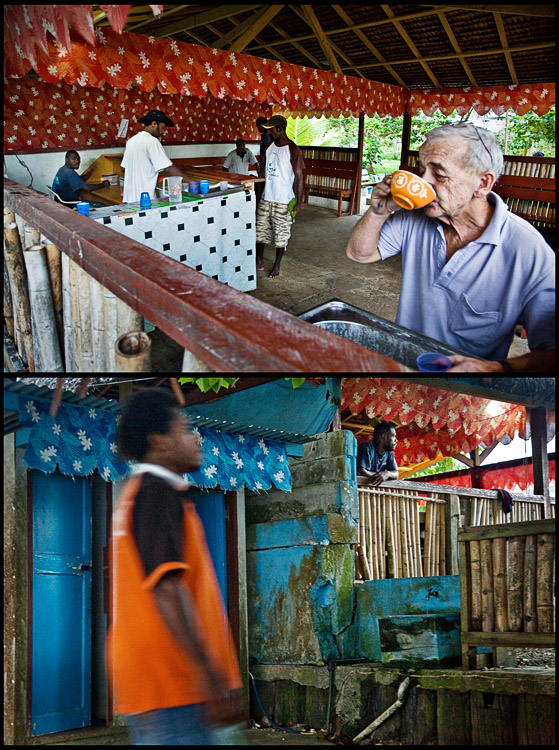 Kava
© Luko G-R

(21-05-2010)

<

Espiritu Santo (Son)

<

Vanuatu

<

Oceania

PHOTO DESCRIPTION

Kava root makes you feel numb, it's a mild organic psychotrope, you can buy for half dollar a coco shell. The kava bar is the meeting place after 5PM, usually a schack in a quiet place.

Drinking kava is a whole way of life for who belongs to the country. In Indochina, the french colonials used to take a puff on opium from time to time, kava is Vanuatu's opium, much milder though...
| | |
| --- | --- |
| APN | CANON - EOS 5D |
| Registred camera | CANON EOS 5D with CANON EF 24-105mm f/4L IS USM (Reflex camera) |
| Orignal filename | 750 kava bar santo.jpg |
comments
05/23/2010
J'ame aussi bcp cette compo. Bon moment aussi avec le coup du bol. Il a encore un morceau de pain dans la bouche, je l'ai vu :)
nono

05/22/2010
top shot is top...the bottom one not that much.
There's an icon missing

05/22/2010
Well, the top shot definately tells the story for me, but the bottom...not so much. Maybe it's the blurred vison of the colonial; I think not though...it just doesn't fit the structure of the rest of the series for me. The structure is there, I like the top better.
05/22/2010
I like the trop here a lot, one of the more intelligent and witty diptych we've had here in a long time... Hugh really writes very well it's kind of tough following him ;o)
05/21/2010
Clever. The idea that the expat is drinking his kava and, what? Seeing a blurred world of "natives" in his intoxicated haze. Maybe my least favorite of this awesome project. But I still like it.