/photo view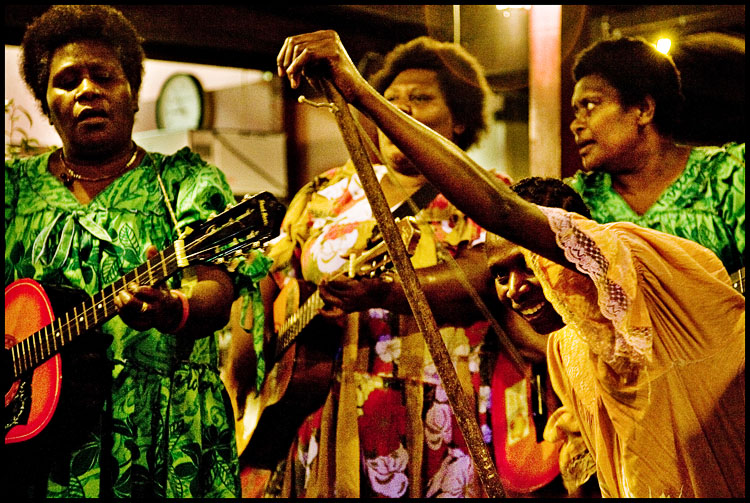 String band
© Luko G-R

(24-07-2009)

<

Port Vila (Vli)

<

Vanuatu

<

Oceania

PHOTO DESCRIPTION

As for women, booze and billiards are a no-no, they will then focus on music and singing.

Taking advantge of their placid and compassionate minds, various churches endlessly try to enroll them into their soulkeeping programs, like there was no respite for any kind of human exploitation.
| | |
| --- | --- |
| APN | Canon Canon EOS 5D |
| Registred camera | CANON Canon EOS 5D with CANON EF 24-105mm f/4L IS USM (Reflex camera) |
| EXIF information | f:4 - 1/20 - 1000 ISO (no flash) |
| Orignal filename | 750 stringband.jpg |
comments
05/25/2010
Les regards, les regards, quelle ambiance, t'as rajouté du grain ? ça le fait bien ..
05/23/2010
Vert, jaune, jaune, vert. J'aime bien :) Tu joues bien :) T'es fair ply quoi :)
Photo étonnante.
nono

05/22/2010
That processing I'm sorry to say doesn't work for me. The quality is lacking here Luko...at least for me.

05/22/2010
Love this. The texture is incredible...the yellow tones soaking throughout, great. That woman on the left looks like a more folksy Aretha Franklin. I would love to hear this song.
05/22/2010
You're texturally in Shailendra territory here, buddy, thinking back to his wok on Mauritius... I like the position of the fourth character a little below the three Arethras...
05/21/2010
Nice, even with all the grain, or maybe because of it. Those faces light up the night. The commentary is very post-colonial of you, I must say. . .