/photo view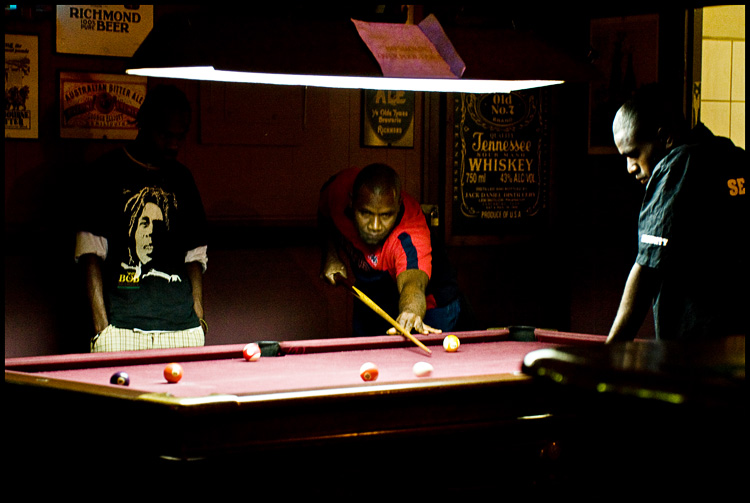 Reggae Nighthawks
© Luko G-R

(24-07-2009)

<

Port Vila (Vli)

<

Vanuatu

<

Oceania

PHOTO DESCRIPTION

When there is no cinema, there still is pool and Bob Marley.
In countries where no one has yet stood straight, Bob Marley is a softer version of the Che, more appropriate to the gentle nature of the nivans.

Reggae hits big in the islands : the tune I was hearing everywhere was Alpha Blondy's "cocody rock".
| | |
| --- | --- |
| APN | Canon Canon EOS 5D |
| Registred camera | CANON Canon EOS 5D with CANON EF 24-105mm f/4L IS USM (Reflex camera) |
| EXIF information | f:4 - 1/15 - 1000 ISO (no flash) |
| Orignal filename | 750 players.jpg |
comments
05/23/2010
Superbe ambiance man ! :)
Manque plus de la fumée. J'aime beaucoup.
nono

05/22/2010
Yeah! Greetings in the name of His Imperial Majesty, Emperor Haile Selassie, Jah Rastafari, who liveth and reigneth I'n'I itinually ever fearful, ever sure. They say experience teacheth wisdom, but there's a Natural Mystic blowing through the air!

-Bob Marley before "Natural Mystic"

Stunning image man!


05/22/2010
Luko: the invisible wearer of the Marley shirt, and his proxi porttrait is the tops: luck or skill? Either way, a complete success. :) - total mood

c

05/22/2010
Yes.
05/22/2010
Yo Bob nice to see you again.
always nice to take pool picture with this light. here would be same with some asian cat :)
but for the music hmmm . Maybe the title could be Pool and Bob
••fly••

05/22/2010
Hopper in Vanatu... Simply superb, Luko, one of your most searing shots in a while. Iconic Mount Rushmore persence of the fellow on the right and then the faceless Markey T-short on the left, the whole bathed in Hopperish alienation.
Brilliant capture. Fav for me too.

ps. One can easily see what a PERSONAL project this is for you, and you are easily a match for the occasion.

05/21/2010
Just a riveting photo, man. The loss of that guy's face, replaced by the Third-World idol on his shirt, the follow through with the pool cue, the liquor signs from around the world, the glow of the flourescent light on the dark surfaces (faces and furniture) . . . it's just out of this world.