/photo view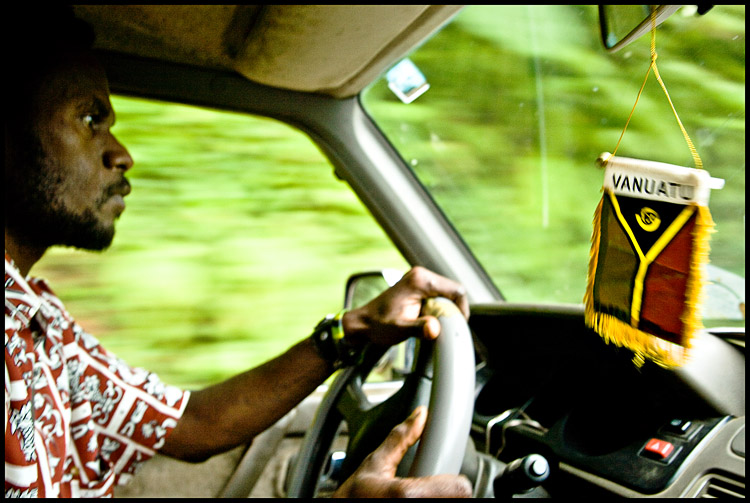 Mifala blong Vanuatu
© Luko G-R

(01-08-2009)

<

Tanna (Tah)

<

Vanuatu

<

Oceania

PHOTO DESCRIPTION

"Mifala blong Vanuatu" means "We are from Vanuatu" in the strange bislama language, the lingua franca we use to communicate with everyone, knowing te archipelago is a babel of dialects.



| | |
| --- | --- |
| APN | Canon Canon EOS 5D |
| Registred camera | CANON Canon EOS 5D with CANON EF 24-105mm f/4L IS USM (Reflex camera) |
| EXIF information | f:5 - 1/30 - 200 ISO (no flash) |
| Orignal filename | 750 tanna drive.jpg |
comments
05/25/2010
Celle-ci me rappelle une des premières photo que j'ai prise lors de mon arrivée à Mumbay.le regard du chauffeur de taxi dans le retro à 1h du matin. Fascinant de croiser ce type de regard. J'imagine que tu ne faisais le fier dans cette voiture et à cette vitesse ;o) !
05/23/2010
Hello Luko,
Excellent ! Le vert, le regard qui tue, le cache sexe Vanuatu :) ... c'est superbe pour moi. Photo vibrante. Bravo.
nono

05/22/2010
I woukd have liked to see this more clean, less processed....what's shown however is visualy very interesting. The flag, the driver's look and the motion all make this a very nice image indeed

05/22/2010
So yes, the intensity is definately there. Those eyes, burning eyes. What I do feel is that you have bumped the saturation a bit too much. That green is bleeding into everything; his face showing hints of a green tinge. I don't mind the color bleed in some photos, but the area that retains natural color must be large enough to hold the attention of the viewer; here, I'm not sure that's the case. The photo is good, I just think the processing is off a little.
05/22/2010
This one is all abut the blurry GREEN and all that I imagine it represents for you, and the intense, "tribal" intensity of the driver's eyes. Great atmosphere here, man - I'm in!
05/21/2010
Luko: it's been a long time - spectrally long to employ a term Conrad might've hit on. Eerie, gloomy greens and a headlong rush into the jungle, appropriate for your theme. I'm just back after a year or two hiatus myself, from the abyss.
05/21/2010
Vanautu on the move. And now it's sinking, I understand. Fantastic moment of initmacy here married that omnipresent cliché gesture of nationalism -- the flag hanging from the cabbie's rearview mirror.