/photo view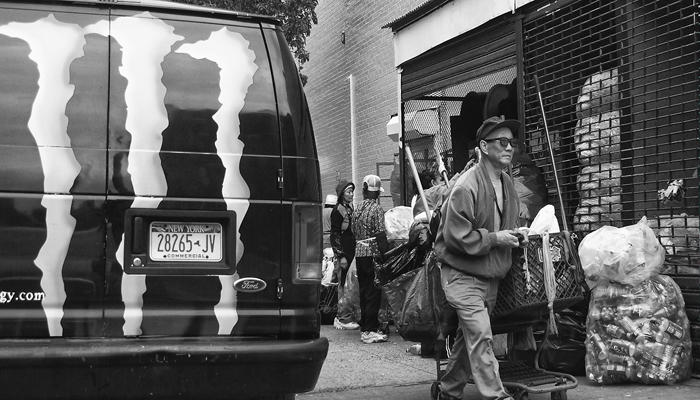 The can collector
© Didier Vanderperre

(19-05-2010)

<

New York

<

United States

<

America

PHOTO DESCRIPTION

Many poor people in NY collect empty metal cans from the garbage for the 5 cents deposit they are worth. It is not unusual to see people with supermarket shopping carts full of cans.
This place was a reception area where I guess people could redeem they 5 cents per can.
Like Prantik I tried to split the frame in 2, but he is a lot better than me at it.

| | |
| --- | --- |
| APN | Canon Canon PowerShot G11 |
| Registred camera | Canon Canon PowerShot G11 (Bridge/Compact) |
| EXIF information | f:3,2 - 1/400 - 200 ISO (no flash) |
| Orignal filename | g110309 edited 2 lo ph.jpg |
comments
05/26/2010
Hi Didier,
I think I like the general idea, but like me you too have trouble here with layering. Compositionally, I think the problem might have been that the car on the left is too straight. It is here that a bit of tilt would have been perfect.
A

05/22/2010
Doesn't quite get it for me Didier. It's a bit cluttered for me. I want to see more detail, more plainly in the right side; yet that Monster truck to the right steals my sight.
Not quite.
05/21/2010
Love the idea, but the right messy side whtich overlap with the guy don't work for me. But love the idea and compo.
nono

05/20/2010
This reminds me of Francis more than Prantik, Didier. I regret that you cut off the man's feet. It's not always a problem, but here it feels like a mistake. I see what you were trying to do with splitting the frame in half and it's a nice idea, but ultimately I'm between neutral to negative on this photo. I feel that the van (unusual paint job!) is dominating over the real subject -- the can collector. Just my 5-cent depost, of course.