/photo view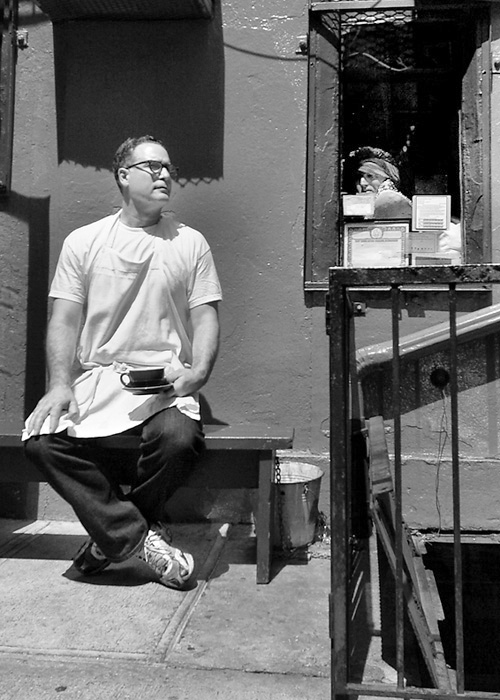 Coffee Break
© Didier Vanderperre

(04-05-2010)

<

Alabama

<

United States

<

America

PHOTO DESCRIPTION

I snapped this shot while walking by.
I thought I was unoticed until I realized somebody was looking at me through the window.

| | |
| --- | --- |
| APN | CANON - Canon EOS 20D |
| Registred camera | CANON Canon EOS 20D with CANON EF 24-105mm f/4L IS USM (Reflex camera) |
| EXIF information | f:4 - 1/8000 - 400 ISO (no flash) |
| Orignal filename | reupload_10000327 edited lo_ph 2.jpg |
comments
05/22/2010
I also noticed the cubism here. It is a nice touch, and a good contrast to the other shots in this series. I do agree with the indication that you need a little less contrast here. We need some more grey-scale to get detail in those human faces; but that is just a processing gripe...this is a fine photo indeed.
05/09/2010
The composition works for me Didier. The go almost looks like he's posing for someone else, and the face in the shadows acts as nice contrast to the man, out in the open and lit up like a christmas tree.

05/09/2010
Hola!

I like a lot the compo, specially for the cubisme feeling as nono says, but also for the two persons on the picture.
As nono says I think that you can improve lights. It's just a point of view but may be it could be better to rework the picture with the lights, specially on the faces of the man and on the woman.
I think that to increase the inlightening over him and specialy over her, can gives more dynamism to the picture. It's not easy to see the woman on the picture and a little bit more of light over her will make her more visible and after we can look at the man, follows his sight and find the look of the woman that goes to him, creating an interesting dynamism. About contrast, I would prefer to decrease a little the middle tones, to gives a little bit more of light.

I hope I don't bother you with all this explanations, it's just to give you another point of view, but any way, I find your picture very very interesting. You have done the harder...a good composition (the eye of the photographer), the lights it's always more personnal.

Hasta la vista,

Javier

05/09/2010
Bien vu, Didier. Bien joue.
-F-
05/08/2010
Quite an European feel to this photo. A nice decisive moment, layers of reality.


05/07/2010
Nice cubism playing. Charming photogrph, even the light was not the best.
Cheers.
nono