/photo view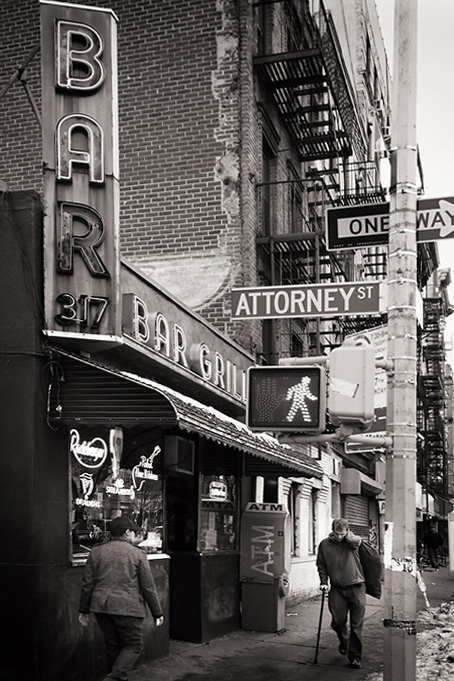 Attorney St
© Didier Vanderperre

(15-02-2010)

<

Alabama

<

United States

<

America

PHOTO DESCRIPTION

Another shot of the run down feel of the Lower East Side.
I would be interested in knowing what you guys think about this one.
It is a little busy, I know; but I like to overall feel, with the street sign saying walk and the limping guy in the back ground.

| | |
| --- | --- |
| APN | CANON - Canon EOS 20D |
| Registred camera | CANON Canon EOS 20D with CANON EF 24-105mm f/4L IS USM (Reflex camera) |
| EXIF information | f:5,6 - 1/100 - 400 ISO (no flash) |
| Orignal filename | reupload_10007118 edited lo 3 ph.jpg |
comments
05/15/2010
Hello Didier, classic Americana with this photograph. There is nothing revolutionary with this shot, and that's Ok. Sometimes we dont need art, we just need a document of what exists...or, did exist. Yes, the juxtaposition on the "walk" sign with the gentlmen walking by is a nice touch.
05/11/2010
I too like this one. There is a movement in this one, arrows, walking men, walking light, contrast with stationary buildings from another era. Very nice tones.

05/10/2010
I realy like this shot it seem from the past, another time.
many detail to see but the picture is not confuse; like everythig have a place.
simple and nice street picture. I also love your B&W and the warm tone.
••fly••

05/09/2010
Yes, I agree with Will, this shot deserves comment, Didier - really representative of the Lower East Side - the jumble of signs, the general charming seediness and hints of bohemia, it's all there in this carefully composed shot.
05/09/2010
Surprised no one had commented on this one, Didier. I love all the verticals in the shot. The walking symbol looks great between the two figures. Mind you, I think the photo could benefit from less of a tilt and a little more contrast.