/photo view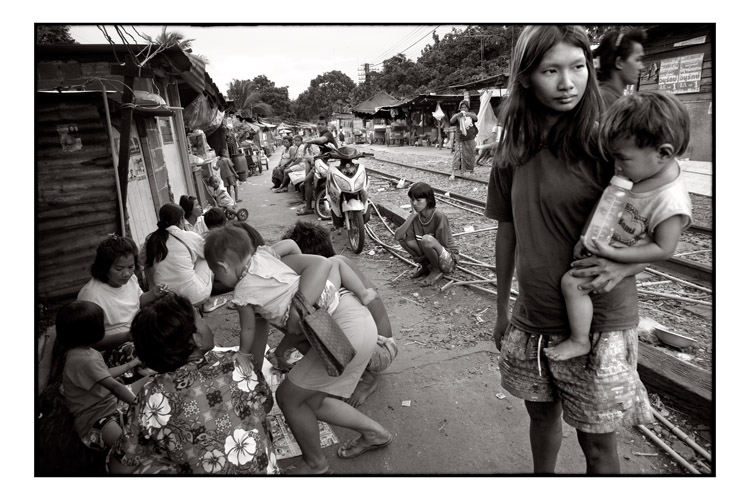 normal day
© Simon Kolton

(26-07-2006)

<

Bangkok

<

Thailand

<

Asia

PHOTO DESCRIPTION

A simple scene on the railway, a day like everyday.

| | |
| --- | --- |
| APN | Canon Canon EOS 5D |
| Registred camera | CANON Canon EOS 5D with CANON EF 16-35mm f/2.8L II USM (Reflex camera) |
| EXIF information | f:8 - 1/125 - 200 ISO (no flash) |
| Orignal filename | img_1181.jpg |
comments
02/25/2010
A nice simple approach. A very good story telling shot.
Partha

02/25/2010
cleverly composed, keeping the mother and the baby in the foregournd, though involved, but for a moment, she looks for some more space ... looks out of the scene ... a perfect example of daily life...

02/24/2010
Fantastic stuff this Simon. A very mundane scene yet there's so much info (almost an overdose:) )
The way the eye is swept through the image, via a right-left diagonal and then to the right trough that bend in the path, is outstanding.
The mother and child is very powerfull but just about every part of the image is a subject by itself.


02/24/2010
There is a superb 3D rendering in this image, aided by your trademark glow. The faraway look on the young mother's eyes makes this 'everyday' scene universal. A keeper.

02/24/2010
Tu es en pleine possession de tes pouvoirs ces temps-ci, Simon. C7est une inspiration de voir ces tableaux a la fois complexes et integres. Vraiment du tres tres joli travail. Tres "Pro" ;o)
02/24/2010
Photo documentaire et donc révélatrice d'un lieu (normal day). Le cadre et l'espace sont superbement gérés, accroche, développement, lignes de fuites vers l'infini / la fin / la conclusion. Photo narative d'un endroit. Photo engagée, tu rentres dans tes photos / projets avec une volonté certaine. Une volonté forte de créer, produire, transcrire, rendre compte, alors continue ! Super Simon, bravo
nono