/photo view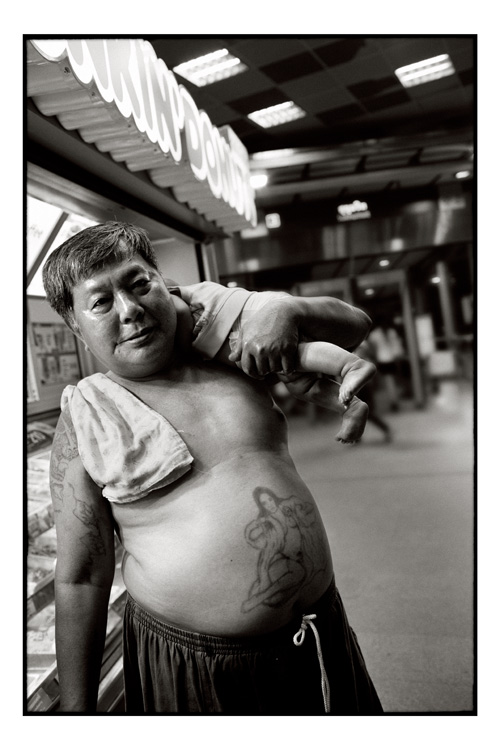 Et hop
© Simon Kolton

(21-12-2009)

<

Bangkok

<

Thailand

<

Asia

PHOTO DESCRIPTION

Some picture we dont have time to think, time to talk, just take the camera and shoot, and wish it could be a interesting picture. i dont know if thi one is good or not i just like the situation of this man and the baby on his shoulder.
I was waiting outide to buy a sandwich ( yes it can happen also in Thailand to have a sandwich :) ) I saw this man he was walking around with the baby on his shoulder, Hmmmm my cam is in the bag what should i do ??? Simon !!!! dont be lazy :)
ok wait mister please. No i didnt ask him, but maybe my face talked more and dont know why he waited few second, maybe he felt that i was looking for my cam...

| | |
| --- | --- |
| APN | Canon - Canon EOS 5D Mark II |
| Registred camera | Canon Canon EOS 5D Mark II with CANON EF 35mm f/1.4 L USM (Reflex camera) |
| EXIF information | f:3,5 - 1/60 - 800 ISO (no flash) |
| Orignal filename | hop.jpg |
comments
02/18/2010
Great shot Simon. At first, I thought he was carrying a leg of meat!

02/17/2010
Lovable, empathic image! As usual, a masterly control over tonality and composition.

02/16/2010
Magnifique photo Simon !
De multiples histoires, histoire du tatouage, histoire du bide et des sandwichs ;) histoire du gamin en mode paquet de jambon ;) ... cette photo me fait penser à une photo de Tom made in Thailande, ou l'homme a une stature à peu près similaire. Tout est rond, potelé enrobé, malaxé dans cette photo. Bravo.
nono
(cool de te voir par ici ! Merci)

02/16/2010
Cool, I like the tatoo on the stomach.

02/15/2010
Pub pour du maïs vert : HoHoHo... géééééannnt jaune...

j'ai regardé ta vidéo du réparateur de moto. 'tain il y a une photo NB, juste au moment où sa cigarette "explose" de fumée...
Je me suis demandé aussi si je n'étais pas attiré par la vidéo du 5dmk2.. je ne sais toujours pas. ça me frustrerait d'un côté de filmer en recherchant des images fixes, tout comme je suis qqfois frustré de ne pas avoir de son sur des images fixes... j'ai acheté à ma fille un 7D pour Noël, va falloir que je lui emprunte la vidéo pour me faire une idée, qu'est-ce que tu conseille comme soft "monteur" fastoche.

T'es revenu à Paris pour les sandwichs?
02/15/2010
Salut Simon! De retour du Vietnam je trouve ce portrait parfaitement cadre - meme a la depeche du maintient un tres haut niveau - tres chouette cette image qui parle. J'aime aussi ta description si vivide de l'instant - tout cela m'est tres familer ;o)
A+
-F-