/photo view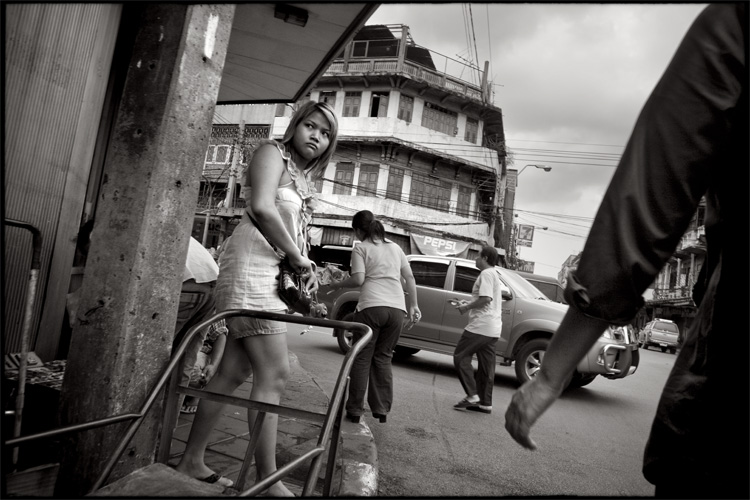 The girl who looked
© Simon Kolton

(02-09-2008)

<

Bangkok

<

Thailand

<

Asia

PHOTO DESCRIPTION

People do not still wait for anybody whom they know. And the professions change according to streets.


| | |
| --- | --- |
| APN | CANON - Canon EOS 5D |
| Registred camera | CANON Canon EOS 5D with CANON EF 24-105mm f/4L IS USM (Reflex camera) |
| EXIF information | f:11 - 1/250 - 400 ISO (no flash) |
| Orignal filename | 08_9758.jpg |
comments
01/12/2010
freewheeling camera ....you're good at it...that frozen swinging hand (umm how is that possible!) takes spontaneity of this photograph to a another level, me thinks....
01/11/2010
Que j'aime cette photo Simon. On croirait une de tes photo issue du Viet Nam. Une photo aux histoires multiples. J'aime ces photos un peu distantes où on ne te voit pas, où chaque acteurs joue son rôle. On a un peu tout dans cette image. Merci.
nono

01/09/2010
Très cinematographique et dynamique cette image, et le regard très captivant. Dit moi...ce noir et blanc, n'est pas entierement noir et blanc? Tu as donné un petit coup de jaune pour rechauffer le noir et blanc ?

Hasta la vista,

Javier

01/09/2010
Superbe ca, SImpon, de la tres grande photo. Tout un drame devant nous, une scene de cinema sans auncun doute, tout chavire, le ciel est lourd, ca va barder. J'aime beaucoup.
Fav.
A+
Francis
01/09/2010
Fantastic Simon. A streetscene that's both chaotic and ordered at the same time. The woman's look is echoed by the other woman we see from the back, who also tilts her body. Combined with the perfect tilt of the image makes this very succesfull

01/09/2010
Ooo! Dramatic and intense. Love the composition on the fly. Love the arm and hand on the right and teh chair on the left through which legs are framed.