/photo view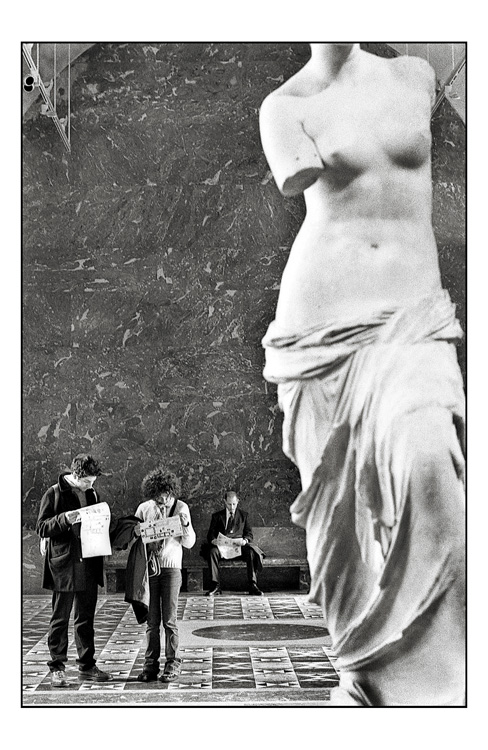 1st district : This way please
© Luko G-R

(01-11-2002)

<

Régions Iles de France

<

France

<

Europe

PHOTO DESCRIPTION

So feel free to look at the map, the lady won't help you pointing the direction, this is where it starts.

1st District, the Louvre Museum, the starting point of the snail shell.

Louvre was one of my favorite playgrounds before they banned photo in certain areas -the most interesting ones- I think I have enough material to make a project focused only around the Louvre. I have some kind of fascination for Elliott Erwitt's witty museum shots, if it doesn't show too obviously.

This is a quite old one but it's funny to observe the tourist behaviors, I'm a big fan of all these comportmental studies crossed by cultures, like Edward T Hall's "Hidden dimension". Italians are not like Russians or Northerners indeed.. I would bet two million dollars, these two are italians.

(If you look that other site, You'll notice our fellow member Prantik has recently uploaded an incredible image about that armless lady of Milo, one of th ebest I have seen taken inside the Louvre... and I've seen some...)
| | |
| --- | --- |
| APN | LEICA - M6 |
| Registred camera | LEICA M6 with LEICA Summicron M 50mm f/2 (Reflex camera) |
| Orignal filename | venus.jpg |
comments
05/26/2008
20 photos pour autant d'arrondissements ? En voilà un projet qu'il m'aurait plu d'avoir...
En tout cas j'aime ici les 3 plans superposés comme de multiples histoires à suivre... Statue figée qui survivra aux trois autres, des touristes à la recherche de leur Paris, de leur voyage... et enfin ce probable parisien sagement assis, la tête au travers des actualités... ici mais pas vraiment....
Beaucoup d'histoires dans cette photo et un début de projet prometteur...

02/07/2008
I was thinking exactly the same ... you must have enough material to focus just in the Louvre ... mayber latter? a 20 photo project about the Louvre is short ... a 20 photo project about Paris must be a hell of a dilema! I'm eager to see how you manage to show each district in one frame only.

I love the cleverness of your shots ... the way you subtle frame your "models"

01/17/2008
Hi Luko, you are the winner of the bet... two million dollars...i agree with you...the man and the woman are italians... :)) Beautiful moment captured with the 3 newpaper and the position of the people...Original and great image of Louvre..

01/17/2008
This is the fourth time I have returned to this image. I read your notes and see the obvious attraction of composition (although I do not see their Italian-ness). But somehow I think the photo does not come through for me as well as your many others. Is that because the elements are 'four' in number and not 'three'--your golden rule? I think that is it.

[I just visited Prantik's photo, thanks for the heads up...and now I am even more certain it is the number thing]

01/16/2008
aahh nice Luko :-) that brings a smile upon my face... A project from Paris from you. since half of the photographers here are from France ( sure not all from Paris) most of them go to Africa and Asia to make photo's. Now I never been that far from home so I can't know what makes life so interesting over there, but the truth is I like your Paris photo's at least as much as your Asian ones. Except for sweeping monks ofcourse ;-) nothing in the world can beat a shot of a sweeping monk, and it is a fact that the monks in Thailand sweep just a bit harder then the ones we have here in Europe, maybe more dust, maybe better brooms, maybe maybe...

Back to the project you're about to unleash on us. Funny coincidence the 20 districts and the 20 shot maximum here on the projects. A sign that this project is meant to be made. I was just checking the districts on the web and saw you possibly will be ending this in Pere Lachaise another sign perhaps… The map of the districts also taught me we won't be seeing burning cars in the streets, well I can life with that. So nice project, I'm curious where you will be taking us. Aunti Gal promised to knit you a nice pair of pantoffels after the last photo. We quess you're a size 42...

Ooh the photo is full of beautiful contradictions, I would be tempted to burn the statue a bit, but perhaps that will unbalance it too much. Very nice as it is…

Jorrit
01/16/2008
1. Terrific idea for a series (and yes, I've taken the hint as far as Tokyo goes...maybe with just one lens, my new and very eccentric Zeiss Sonnar C 50mm f1.5... on the rangefinder).
2. Strong hints of Erwitt here for sure - the self-absorbtion of the two tourists - the cold indifference of the "watcher"
3. Lovely proportional work along the vertical - HUGE Venus and tiny visitors...
4. I would propose a slight but meaningful change to your title. Make it "Paris BY numbers" instead of "in". Thenm you have a double meaning going - the simple straight forward meaning and then the old "painting by nuymbers" thing as well. Up to you, of course, as always. I try not to interfere but...
5. Let me guess - 35mm Summilux??? Or rather 21mm...taking in all that scene?

ps Great to see you uploading a new project!

01/16/2008
few days back i was in a library browsing through an elliot erwitt book ...felt inspired...
the above shot is just one from the book it seems...everything in this picture is so subtle and thats what make me feel so intrigued ...
thanks for the reference to Pranitk's work. :)

01/16/2008
Now ou will experience the pain of uploading a long series. I personally tired but have failed to get to 20...but I think I might get there this time...maybe.
Its a good shot. I think I like the way you organiuzed the frame and how the Venus is not all contained within the frame. Infact theres a strong illuion of her being phosotshopped into the frame. Its a strange shot. A bit Erwittish, yes, though Id love to see more interaction or a stronger link between all the elements...I think thats where Erwitt get these things so right.
Its a good idea to have a sort of assignment project about our cities.
01/16/2008
Wonderful, this vintage shot, the proportions are superb and whimsical. Love how you brought all of them together in a single shot, the two "Italians" lost in their maps or baedekers, the man reading the paper right behind this incredible, imposing Venus. E. Erwitt definitely is echoed here, and I bet he'd love it. Superb shot, Luko, love the idea for this series, look forward to the next offerings
sasa