/photo view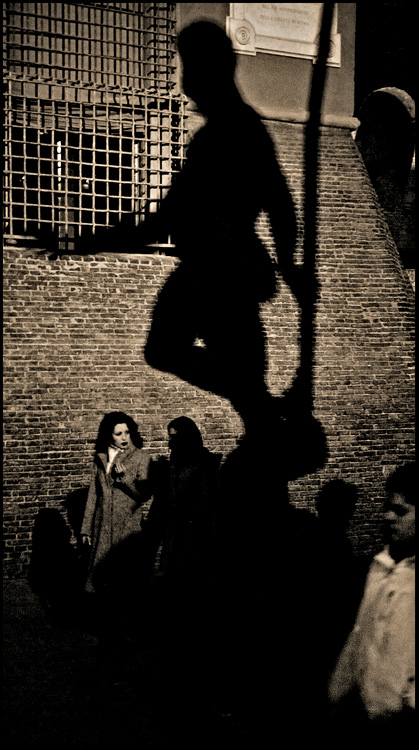 Nettuno e la donna
© Luko G-R

(01-11-2009)

<

Emilia-Romagna

<

Italy

<

Europe

PHOTO DESCRIPTION

I will end this tuscanian project with the only image taken outside Tuscany -not so far away- in Bologna for an hommage to the donne italiana, so graceful and smartly dressed.

I don't know why Neptune is standing right in the center of Bologna, 150 miles away from the closest shores, though I 'm sure only for the girls in Tuscany it was worth for him doing the trip, also he might be grateful to the italian genius of recycling all sorts of concepts in their piazzas.

| | |
| --- | --- |
| APN | Canon Canon EOS 5D |
| Registred camera | CANON Canon EOS 5D with CANON EF 24-105mm f/4L IS USM (Reflex camera) |
| EXIF information | f:4 - 1/40 - 1250 ISO (no flash) |
| Orignal filename | sepiabolognabacchus.jpg |
comments
12/22/2009
A satyricon! Superbly rendered. A favorite!

12/12/2009
Photo hallucinante ! Des gens cabossés au milieu d'un clown. Mystérieuse et superbement bien rangée ... pas un pli. Toujours aussi maniaque à ce que je vois ;D
Félicitations !
nono

12/09/2009
agreed on the donne italiana ;o)

12/08/2009
That's a mighty cool shot Luko. Thing is I know your processing skills are excellent but I see a halo around the shadow and I don't really like that heavy grain on the character on the right...and the toning is a bit heavy for me a well. These things bother me as the image is so fine.

ah new icon...let's push it!! (even if I have no idea what it means) :)


12/08/2009
Strong image, Luko. Shadows along the vertical, fleeting face on the edge of the frame, and the role of the statue - new world, old world.
A very finely structured pic. Dunno why no comments on this one, but that happens...