/photo view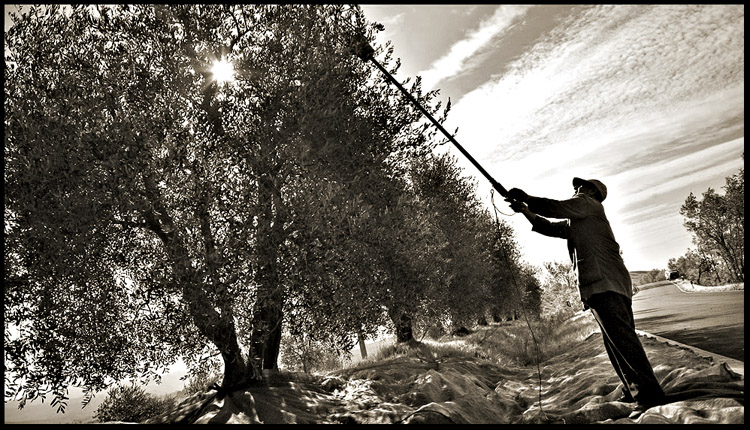 The olive harvester
© Luko G-R

(30-10-2009)

<

Toscana

<

Italy

<

Europe

PHOTO DESCRIPTION

Along the winding roads of the Crete region south of Siena. The vines harvest take place in september while olives come in october november.

There is something glorious almost biblical about both products... though I prefer drinking wine...
| | |
| --- | --- |
| APN | Canon Canon EOS 5D |
| Registred camera | CANON Canon EOS 5D with CANON EF 24-105mm f/4L IS USM (Reflex camera) |
| EXIF information | f:8 - 1/640 - 160 ISO (no flash) |
| Orignal filename | sepiaolive.jpg |
comments
12/03/2009
Another beauty, I actually did olive picking when I was in Greece long time ago, wonderfull times, also like your colour version from TE.
11/26/2009
perfect mediterranean mood... makes me miss my own lovely cyprus... cheers luko...

korkut
11/23/2009
well, guess I was wrong ... your "short" series is getting long ... anyway, splendid composition on par with the old man one, not sure which one I like better ..
CT
11/23/2009
I would say the best one in this et so far - lovely streeeeetching of the landscape frame. Dunno if it's your favorite though - it might be... (You know how I proceed by now - back from a trip somewhere, I go with what I think is my best shot, and often end p on the floor scratching my head ;o) Fav. definitely.
11/22/2009
très belle. Un tilt ici qui fonctionne bien encore. Superbes tonalités et contraste. Excellent.
11/22/2009
Photo bien dynamique et parfaitement 'décomposée', c'est du p'tit lait. Très beau Luko.
nonoV5

11/22/2009
Now this is my fav :)
And actually it works better than the color version. The format is perfect for this one also.
Perfect light management