/photo view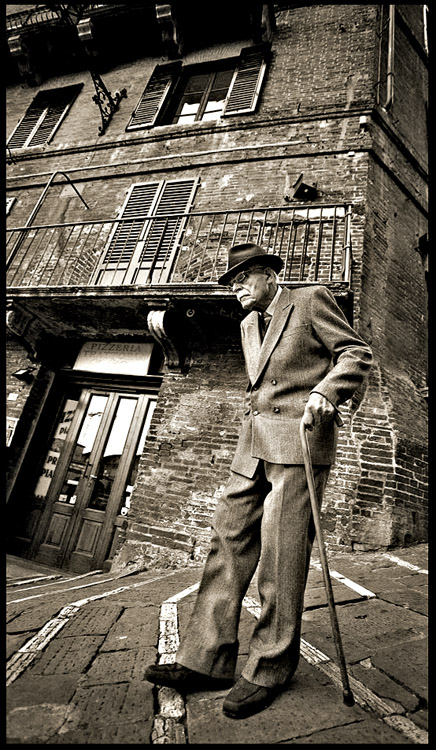 Il vecchio signore senese
© Luko G-R

(30-10-2009)

<

Toscana

<

Italy

<

Europe

PHOTO DESCRIPTION

Everyday of the week, il vecchio signore from Siena checks that the Piazza del Campo is the most beautiful piazza existing on earth. Everyday of his life, he felt this fortunate walk needed such a smart dress code.

I might be storytelling, you may think, probably I am… still I was surprised how the elder residents stopped their walk and stared for a while at the town Palazio, while crossing the piazza del Campo.
| | |
| --- | --- |
| APN | Canon Canon EOS 5D |
| Registred camera | CANON Canon EOS 5D with CANON EF 24-105mm f/4L IS USM (Reflex camera) |
| EXIF information | f:4 - 1/250 - 1000 ISO (no flash) |
| Orignal filename | sepiavecchiodisiena.jpg |
comments
12/09/2009
Ciao Luko,

Pfff what a quality this shot has man! you pushed it to a nice balance throught out all the project. the only thing here is he seems to slightly fall backwards.
I was surprized to that there were so many eldery people in Tuscany. But then i found out that most of them live well above 90! there must be something in the air, the food and the lifestyle there. I think the slow pace helps. After some days, when you adepted to their pace, you don't even care anymore to wait half an hour for your cappuccino and another twenty minutes for the bill.

Jorrit
12/03/2009
This is perfect brother, truly get the feeling Sasa expressed so well, every day of the life is important for the gentleman, and as such is the case he she look good living through it. Glad you had great vacations.
11/26/2009
Yes! Yes! Yes! This IS Tuscany, the aristocracy, the impeccable lines in the trousers even Jean Cocteau would have envied, the elegance that defies this century... superb shot, of course a favourite, Luko... tremendous wide-angle and pov, tonality... (When in Firenze I found myself in the Piazza della Signoria, in which throngs of t-shirt and short-panted tourists were buzzing around, I saw a gentleman, dressed to the nines, in the most elegant white suit, also with a cane and hat, looking at the cavalcade in the most dignified fashion...)

11/22/2009
Murs et bâtiments gentillement déglingués, en echo à ce monsieur qui ne semble plus très agile. Pur dégaine / le classe. Respect à cette personne et au photographe ;)
nono

11/22/2009
This one for me is also my favourite, at least for now...having seen the color versions on pbase I think I prefer them that way to be honest. The sepia toning is a bit strong for my taste and also looks a bit as if you processed silver retention style.

11/22/2009
ma favorite également de la série. Je trouve que les tonalités sont mieux calibrées ici. Le point de vue également me plait, tout comme ce tilt qui amène un côté (déjà ?) bancal à ce vieil homme.
11/22/2009
OK, my favorite of your short serie. Yes, Tuscany, everybody knows it. One of the best ever restaurants I ever been to was in Montalcini (aahhh, Brunello, Brunello, as the elder lady patron said, like reminiscing of an old lover ...). Anyway, I digress, the tonality is brilliant (literally speaking, it sparkles ..). And I love how you froze this old distinguished, Tuscan gentleman, a giant against the old architectural backdrop. Very conventional but classy.
cheers,
Cristian
11/22/2009
Another Luko special - you croutching down pretending to be captivated by the architecture - old coot taking a breather and CLICK, it all comes together. Nice how you elongate the old dandy along the tall building. ps. It is great to see you uploading new stuff - much appreciated!
11/21/2009
Brilliant capture! You seem to pull off these impeccable compositions effortlessly