/photo view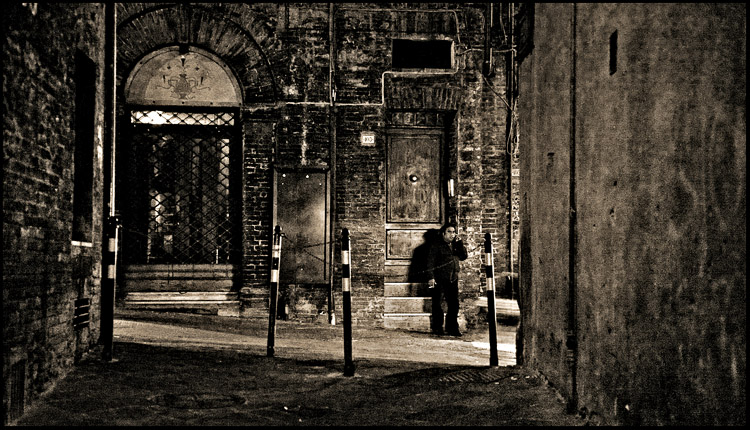 Siena nights
© Luko G-R

(29-10-2009)

<

Toscana

<

Italy

<

Europe

PHOTO DESCRIPTION

One night, standing at the corner of one of the medieval streets of Siena, I wondered how many thugs, thieves or mercenaries I could see pulling a knife out for a silver ducat if I had lived the 8 centuries lifetime of these walls.
| | |
| --- | --- |
| APN | Canon Canon EOS 5D |
| Registred camera | CANON Canon EOS 5D with CANON EF 24-105mm f/4L IS USM (Reflex camera) |
| EXIF information | f:4 - 1/15 - 1600 ISO (no flash) |
| Orignal filename | sepiasienanights.jpg |
comments
12/03/2009
Really dodgy feeling here, should be tourist advertising for leaving expensive cameras at home, love the tonality.
11/26/2009
Now am going to wonder all night why this reminds me of Anselm Kiefer's canvases... the blackness... the suspense, the dark details in the light?

11/22/2009
Après le réconfort, retour au front et la noirceur. Des murs pour être photographiés. Ils n'attendentait que toi. Ça à l'air superbe, çà donne envie d'y être. Bravo
nono

11/21/2009
While in Siena at night on deserted cobbled stone streets, I had visions of fascist boots ringing around the corner. I share your thoughts. Excellent tone separation again.