/photo view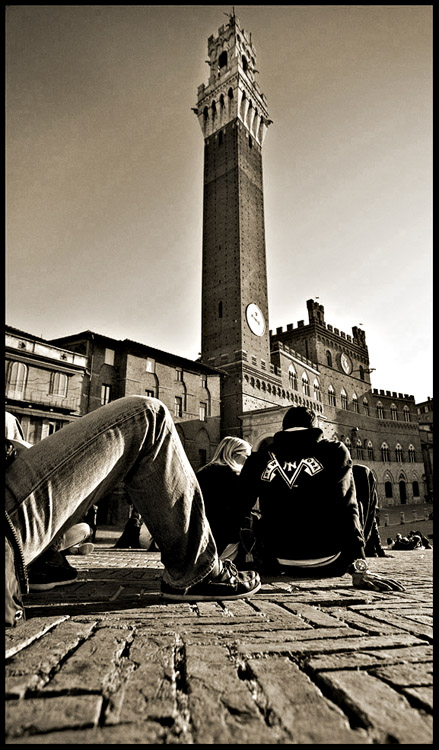 La piu bella piazza nel mondo and gelati on top
© Luko G-R

(30-10-2009)

<

Toscana

<

Italy

<

Europe

PHOTO DESCRIPTION

Sienese people claim their town has the most beautiful piazza in the world. Who am I to say they wrong? Especially once you spent a moment sitting on the pavements with the young Siena crowd in the afternoon ending, licking some lemon gelati.
| | |
| --- | --- |
| APN | Canon Canon EOS 5D |
| Registred camera | CANON Canon EOS 5D (Reflex camera) |
| EXIF information | f:6,3 - 1/2000 - 400 ISO (no flash) |
| Orignal filename | sepiapiazzadelcampo.jpg |
comments
11/26/2009
Again, a great shot of the Torre del Mangia, I remember my frustration not being able to capture it in its entirety in one shot. You did it. You could even include the fishbone structure of the wonderful Campo, what a marvellous piazza indeed... Did you go up?
I was having the flu but couldn't resist--and the view was worth every degree of temperature with which my fever rose afterwards... :)
(On a technical note, besides the shot's brilliant angle, the only thing that disturbs me is the halo around the Torre--maybe the dodging could be a bit more subtle?)

11/21/2009
I don't know if I can agree with the Sienese that theirs is the "most beautiful piazza", but certainly it is one of the most impressive one, harking back to medieval memories. Well done again. Not easy to include the lofty tower.