/photo view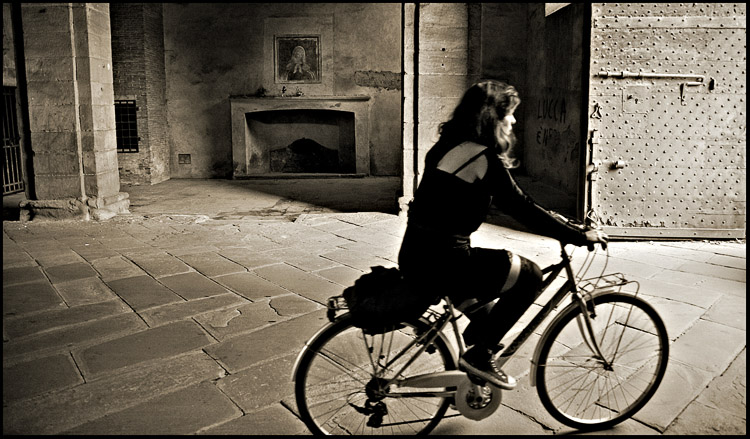 La madonna di Lucca
© Luko G-R

(29-10-2009)

<

Toscana

<

Italy

<

Europe

PHOTO DESCRIPTION

Lucca is surrounded by heavy fortications, that early foggy morning at the entrance porch of the town, I was moved by the modest portrait of Madonna painted above the remainings of a chimney. Someone paid homage to the lady leaving a brilliant red rose below the portrait, the sidelight was glorious.

As usual I waited for someone when a biking woman entered my frame. She wore red converse sneakers matching with her mostly red outfit, anywhere else in the world, a girl would have worn blue, black or white sneakers. Not in Italy…
| | |
| --- | --- |
| APN | Canon Canon EOS 5D |
| Registred camera | CANON Canon EOS 5D with CANON EF 24-105mm f/4L IS USM (Reflex camera) |
| EXIF information | f:4 - 1/125 - 800 ISO (no flash) |
| Orignal filename | sepialuccamadonna.jpg |
comments
11/26/2009
..".anywhere else in the world, a girl would have worn blue, black or white sneakers. Not in Italy…"--and not in Canada either ;)
Seriously, though, a magical shot. I probably would not have had the guts to render her (and the rose's) redness in sepia. You have it, and the effect is a classic and classy work with the very details that make Toscana so genuine--the stray Madonna portrait, probably worthy of a prestigeous museum, silently left there by the fireplace, the wonderful cool slabs of chiseled stone on which the woman has biked by towards the light...

11/22/2009
Là, je fonds, et craques devant tant de sensualité 'caressante'. Un moment de douceur. Je fonds donc ...
nono

11/22/2009
Partly because of the sepia, this has an early 20th century feel, not mention hints of HCB. That's on one level. On another level it calls back some of your BKK shots (such as in the World Trade Center with the line of phones...)I agree with Animesh, that's a pretty sensuous outfit she's wearing - you see people gotten up like this in Tokyo but it would be BLACK, not RED ;o) And then to cap it all off you have the centuries old, historical architecture and this modern woman speeding by. A very cool shot.
11/21/2009
Beautifully sensuous painting! Amazing that you resisted the temptation of color here. Another favorite.