/photo view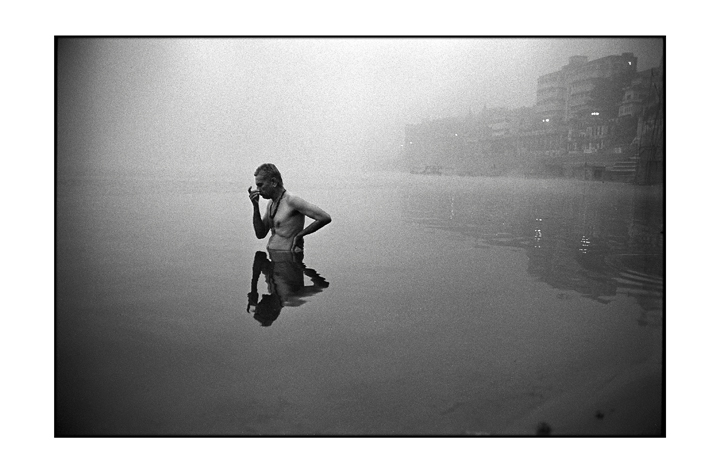 A new day
© Arnaud DE

(16-11-2009)

<

Benares

<

India

<

Asia

PHOTO DESCRIPTION

Along the Ganga in early morning.

| | |
| --- | --- |
| APN | LEICA - MP |
| Registred camera | LEICA MP with LEICA Summicron M 35mm ASPH f/2 (Reflex camera) |
| EXIF information | f:2 - 1/60 - 800 ISO (no flash) |
| Orignal filename | acfb-4.jpg |
comments
11/20/2009
Je vais être à contre courant des autres ;o) !

Tu as "presque" tout mais elle aurait mieux avec un autre "moment" du monsieur qui pour moi ne colle pas avec le côté mystique qui l'entoure ...


11/17/2009
Tu est en train de faire exploer la qualité en ce site avec ce reportage. Je te l'avait déjà dit avec ton projet de "217 miles", mais j'insiste: C'est quand que tu vas publier une fois un libre? Déjà maintenant tu peux faire un recueil de plussieurs reportages.
Comme Simon dit, tu parviens à photographier autrement ce qu'on a déjà beaucoup vue de Benares.

Bravo!,

Javier
11/17/2009
Wow, another of your moody grainy foggy treasures--because this is a treasure too... a fabulous shot, seems so peaceful, calm... did you take it form the Ganges itself? Or where you on the shore? :)
Tremendous offering, Nono! So inspiring...
sasa

11/16/2009
well, you have reflection of people in the Ganges, i have from buildings in Antwerp, but how i want to change from place ; P
looks like a mirror , and the fog in the background is absolutely fabulous.
11/16/2009
Je me suis souvent dis que Benares avait été photographié des millions de fois, et qu'il devrait etre difficile de faire des photos, mais tu nous prouve qu'on peu toujours faire mieux. Une grande image Arnaud, techniquement, mais cela va bien au dela de la tecnique ici. Un grand bravo, une image que j'aurais été fier d'avoir shootée. et une belle vitrine pour Holik.
••fly••


11/16/2009
11/16/2009
Remarkable photo. Contemplative, geometrically austere. Moody.

11/16/2009
A more traditional feel here, but beautifully judged - I love the "vignetting" in the corner. I'm guessing - Leica MP with a 35 cron Asph... (Tu as toujours la courroie que je t'avais envoyee?)
Great series, Arnaud, solid, intelligent, evocative and... very interestingly, NOT in color! Sohrab of course has left his mark on Benares, photographically, it would be cool to compare your respective aproaches.
Lovely shot,
-F-

11/16/2009
a bit too pixelated on the top, but superb mood and meditative feel. love his posture and reflection in the water. your project is tops.
CT