/photo view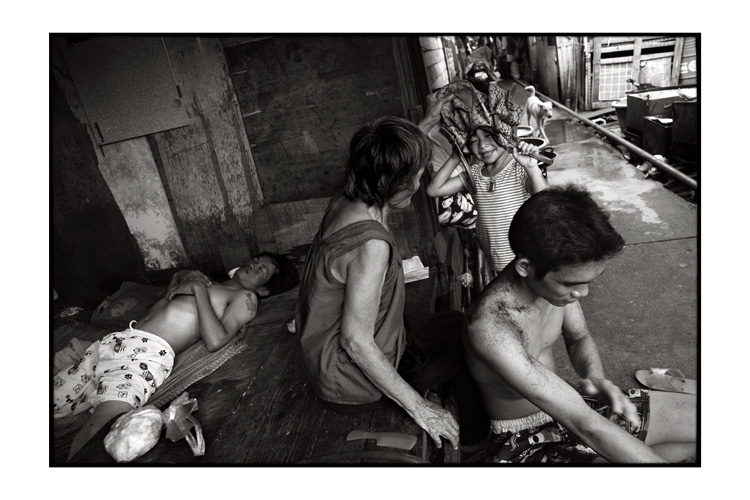 sunday
© Simon Kolton

(08-11-2009)

<

Bangkok

<

Thailand

<

Asia

PHOTO DESCRIPTION
| | |
| --- | --- |
| APN | Canon Canon EOS 5D Mark II |
| Registred camera | Canon Canon EOS 5D Mark II with CANON EF 24-105mm f/4L IS USM (Reflex camera) |
| EXIF information | f:6,3 - 1/100 - 800 ISO (no flash) |
| Orignal filename | 09_11_5355.jpg |
comments
11/12/2009
superbly composed scene, Simon. Pristine BW tones. Fav.
CT
11/12/2009
What a superbly composed image! That dog makes it for me. Its quiet step around the pubble counter balances the chaotic intimacy within this family.

11/11/2009
voyeuristic shot, not an easy one to shoot Simon. the black and white is very beautiful , although the colours would be great too .
11/11/2009
Nice scene with lots of detail in your trademark black and white style. The dog is a nice touch! Congrats on the studio, by the way. Sounds like a great opportunity!
11/11/2009
Striking photograph Simon. Lots of stuff to look at in this typical Thai scene. Wonderful how you where able to include the depth created by the soi. The outstretched arm of the man on the right closes the composition.
Just excellent

11/11/2009
Bonjour Simon - 9:00 du matin a Tokyo, j'arrive a la boite depuis un moment pour trouver cette image "top" de BKK - pas un millimetre de gache ici, chapeau!
-F-

11/10/2009
Très joli timing de ce dimanche. Tout tombe très juste. Tiens on va
réveiller gentillement ce monsieur
qui semble trop tranquille à mes yeux ;).
Bravo Simon très belle photo et une qualité d'image exceptionnelle.
nono