/photo view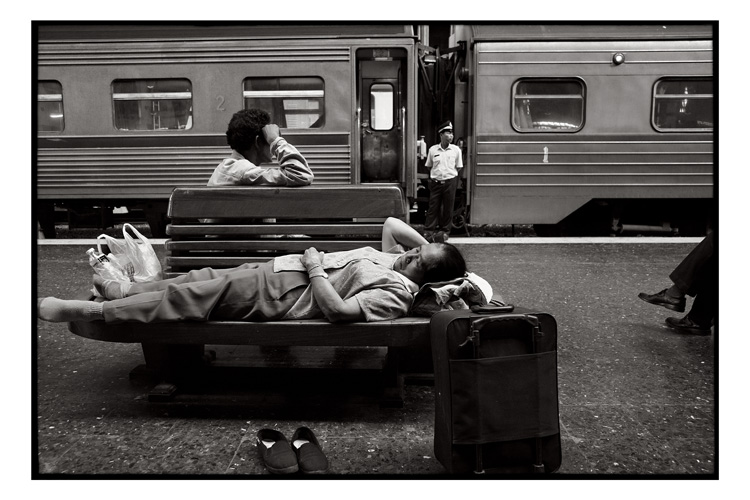 waiting sleeping
© Simon Kolton

(07-01-2008)

<

Bangkok

<

Thailand

<

Asia

PHOTO DESCRIPTION

A scene in Bangkok train station.

| | |
| --- | --- |
| APN | Canon Canon EOS 5D |
| Registred camera | CANON Canon EOS 5D with CANON EF 24-105mm f/4L IS USM (Reflex camera) |
| EXIF information | f:5,6 - 1/30 - 400 ISO (no flash) |
| Orignal filename | train.jpg |
comments
10/24/2009
A timeless moment!

10/14/2009
I love discovering this photo Simon. So many elements to detect. The shoes of course and the cut of legs on the right...
Your signature is all over the image.
Steve

10/14/2009
Of all things, for some reason, I marvel at how the form of the bench mirrors that of the train, and how much structural harmony that fact adds to the image.

10/13/2009
Super bien vu, l'ami. Ke regard de cote du garde rend bien, ainsi que les pieds croppes a droite. Tres harmonieux tout ca. Joli NB, encore que j'aime assez les couleurs un peu "rouille" de la grand gare a BKK...

10/13/2009
I like the scene. 1 2 3 4, and the train. Very Jarmusch'esque. Cool crop of the legs. "I put a spell on you", bla bla bla...
CT
10/13/2009
Man, as Sasa has noted, this shot is all about details. The shoes in the foreground and the legs coming from the right side...I love these details Fly. Such a sense of waiting...of boredom. Great.
10/12/2009
Classic Flydragon shot, so effortless yet so full of details that are essential for its power--love the mood of it, that unhurriedness of people waiting. But also the nice compositional angle, one line drawn by the suitcase, sleeping man's head and that of the sitting man, and the other line by the shoes, the suitcase and the feet of the cropped man. The tonality of course is of the highest calibre again... hope you're enjoying BK and your house is coming along Simon! :)
sasa