/photo view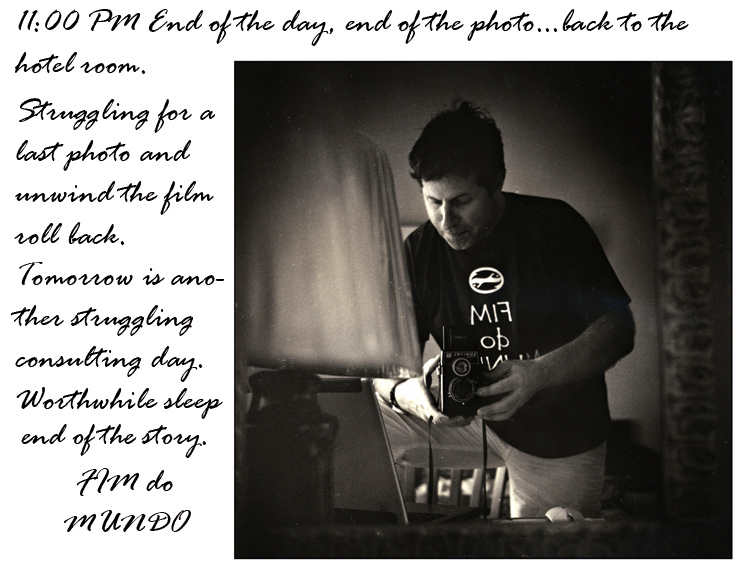 Fim do Mundo
© Luko G-R

(02-12-2007)

<

Saint-Denis

<

Reunion

<

Africa

PHOTO DESCRIPTION

11:00 PM, end of a 36 hours no sleep day, end of the photo... back to the hotel room.

Struggling for that last frame and unwind the film roll back. Tomorrow will be another kind of struggling consulting day.

Worthwhile sleep and end of the story.

FIM DO MUNDO.

-----------------------------------------------------------

Quite funnily, the idea of ending the story with this photo came very soon, probably when I unpacked my case and noticed I had brought a Tshirt marked FIM DO MUNDO on it (otherwise a lovely mozambican operation, aptly named though given the long way to go, the rough sleeping huts, the hungry mosquitoes and dog biting snakes...).
| | |
| --- | --- |
| APN | LOMO - Lubitel 166 |
| Registred camera | LOMO Lubitel 166 (Reflex camera) |
| Orignal filename | fim do mundo.jpg |
comments
03/21/2008
Usually this kind of self portrait is done at the beginning when you get your first MF camera ;o).
This is the last photo out of the 3 x 120 film rolls, It's frustrating I wish I could get more of your Max Pam-like's project & photo !

01/04/2008
Ha....unusual indeed, atleast for an ending to a story. You always need to make yourself so dramatic, very un-G-like I suppose. ...
Alright, I'll stop...I only mean to provoke and I admit it. Sometimes it's fun to be the antagonist. There is nothing special about this shot individually and you know that; but, as a cap to your unusual presentation, it is quite fitting. ( I'll speak more as a whole in a updated project comment). Strong burning, gritty nature...all support the slightly sketchy atmosphere of these photos; sketchy is the only word I found to be appropriate. It all fits for me, I can imagine the sense of exhaustion after 36 hours straight...right here, in this shot...
01/03/2008
Hello neighbor! It takes guts to end a project on a self-portrait which among many other things serves as proof that you were shooting medium format ;o) Of course it only serves to reinforce my Duane Michaels trope, this one more than the others...
Fascinating series, clever movie - this site will never be the same after its passage.

ps. You wil notice that yesterday's truncated photo of the boy is gone (I agreed with you and...there we are). You will also notice a dedication to you in today's replacement which is at polar oposites to the simplified crop you objected to so strenuously. I stand by this new photo one hundred percent ;o)