/photo view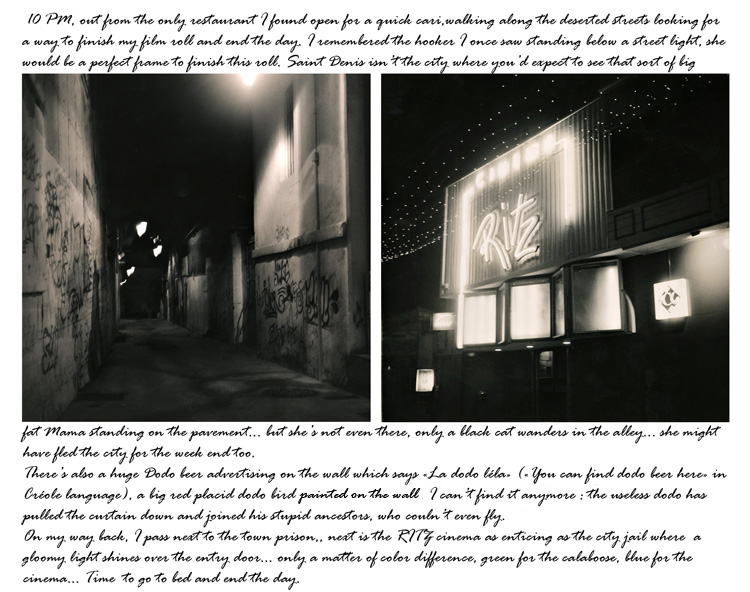 bright light, big city
© Luko G-R

(02-12-2007)

<

Saint-Denis

<

Reunion

<

Africa

PHOTO DESCRIPTION

Sorry I interrupted the story for... huh... nuthin', I'm afraid... not even a short trip, no photography, nope, nothing... Let's go back to it.

--------------------------------------------------------------------

10 PM, out from the only hole in the wall I found open for a quick cari, fun thing though when you think about it : eating Indian food in a French creole speaking Chinese joint, off the African coast.. Globalization didn't wait all this time.

But where is my mind? I'm now walking along the deserted streets and looking for a way to finish my film roll and end this day.

I suddenly remember that big fat hooker I saw standing below a street light a few months ago : she would be a perfect frame to finish this roll. Saint-Denis isn't really the city where you'd expect to see that sort of overweight mama standing on the pavement... but like Carlos Santana says: she's not there. She might have fled the city with the crowd for the week end too. There's only a black cat that wanders in the alley, even too swift for my lazy camera, at least the writings on the wall will stay...


On my agenda, there's also that huge Dodo beer advertising on the wall which says «La dodo léla» ("You can find dodo beer here" in Creole language), a big red placid dodo bird painted on the wall at the corner of the streets, that I can't find anymore : the useless dodo has pulled the curtain down and joined his stupid ancestors, helpless birds who couldn't even fly.


On my way back, I walk by the town prison, neighboring to the RITZ cinema, as enticing as its nearest building. A gloomy light over the jail entry door competes with the flash neon blue of the remotely ritzy venue... only a matter of color difference, green for the calaboose, blue for the cinema... take your ticket and enjoy the ride.

I have to consider the case closed and that I definitely won't find anything worth tonight. Time to go to bed and end the day.
| | |
| --- | --- |
| APN | LOMO - Lubitel 166 |
| Registred camera | LOMO Lubitel 166 (Reflex camera) |
| Orignal filename | bright lights.jpg |
comments
01/03/2008
Right side photo yes, left side photo no...I think the left is nice as a stand alone, maybe...but, you have a few of these blurry shots already and this doesn't seem to add to the whole for me. Here on the left the photo is a little too random, I don't feel a fit. Is this where the hooker was supposed to be, well...why would that be blurred? Again, this means nothing without your words. Looking at the photos by themselves, they should convey something...I mean, that's the point of a photo story right, the photos? The shot on the left would show me nada if it wasn't for the fourth paragraph above. The photo on the right is maybe a little more straightforward, but it's glowing with charm...I think that's neccessary in the flow of your project; everything can't be so cerebral. Again, it might be the format which is bugging me...I want to see the pictures larger...as prints God damnit....I want to hold them.
I know I tend to be a little more intense with your photos. Well, your talented and I want to appreciate that talent as best I can.
Funny, this is the most distinctive series going right now so I'm holding you to a higher standard. ;?}
01/03/2008
bonne année Luko

haha le cinéma Ritz, dejas une histoire en lui même
tout comme le kosmos ou le carlton, et bien d'autre cinèma du genre
que nous avons perdu à paris, pour des grandes salles ou on mange des picorettes
avec des poubelles de popcorn. il y a un coté dernière séance dans cette photo.
allé pour moi c'est le début de la journée ici. Je suis a Hua Hin avec ma fille, elle est venu passer qques jours ici. Hua hin dans son genre pourrai ressembler à ta photo ;o)
••fly••

01/03/2008
Happy New Year, Luko, I was wondering where you'd gone to with the story... This is such a novel approach to a project it is not easy to evaluate - the photos are smaller in the frame and of course, only half the story as the notes have equal graphic weight, or more. This will irrevocably change the way we see projects, I'm sure. I like the tremulous, Brassai quality of the shot on the left and the shimmering loveliness of the neon shot on the right which is beautifully treated. The film noir intensity is maintained throughout here, as is the oniric element. Nothing is quite real and yet every detail...is real.