/photo view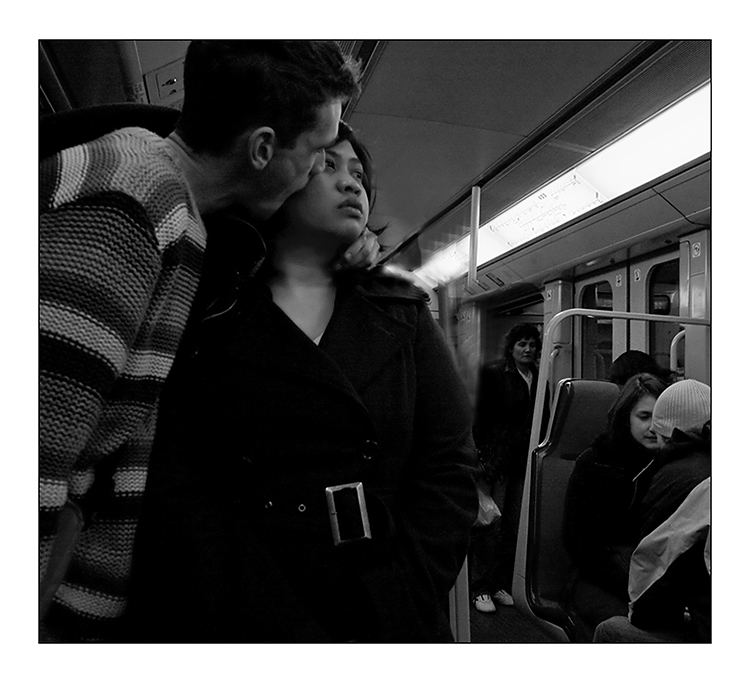 Down there, 4
| | |
| --- | --- |
| APN | Canon Canon EOS 40D |
| Registred camera | CANON Canon EOS 40D with CANON EF-S 17-55mm f/2.8 IS USM (Reflex camera) |
| EXIF information | f:5,6 - 1/60 - 250 ISO (no flash) |
| Orignal filename | phcoupleimg_1427.jpg |
comments
08/14/2009
une photo intimiste, une scène dont je raffolle, j'ai toute une collection de photos d'amoureux du monde.. très bonne composition
au sujet des nattes de la jeunes tzigane, elles sont vraies...


06/15/2009
What a tough cheek to kiss, Michele. I can only hope she softened up. I like the square treatment. The earlier shot is magnificent, as the others have commented. Best, -h.

06/12/2009
Lovely scene, moment. Maybe a brighter treatment in posy processing, to try to break through that miasma of green...
06/12/2009
Very interesting. But I think the photo succeeds because of the distant woman looking one. Intimate and very cleverly arranged.

06/12/2009
Interesting that you said difficult mood day, it appears to be the same sentiment that she is currently sharing. Quite detached. It is the usual places, the usual realationships...the usual drudgery in life. Great shot for a series. As a stand-alone, this photo might not hang in there, but with the note and the placement in the series this shot comes alive.