/photo view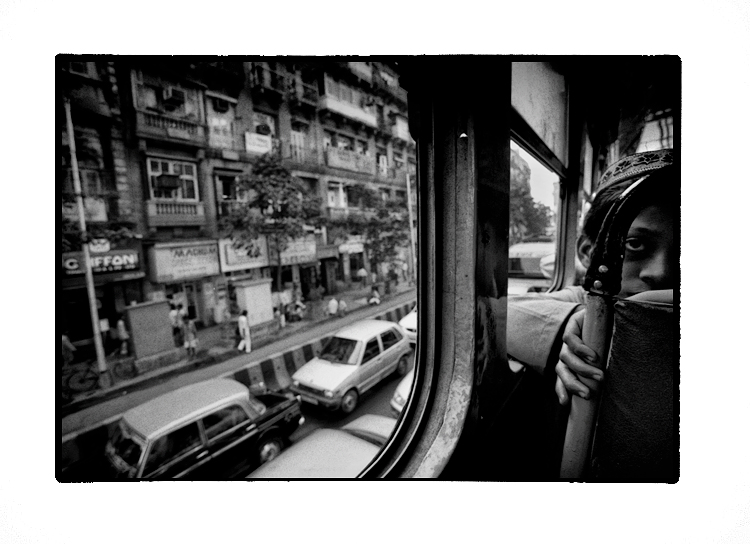 Busride
© Steve Viscot

(08-05-2009)

<

Mumbai (Bombay)

<

India

<

Asia

PHOTO DESCRIPTION

A young muslim boy on a doubledecker bus
| | |
| --- | --- |
| APN | NIKON - F3 |
| Registred camera | NIKON F3 (Reflex camera) |
| Orignal filename | bus2.jpg |
comments
07/03/2009
a good observation on boredom in public transports...
he has the "my god, when will we get off the bus?" expression on his face. spending 3 hours a day, stuck in the traffic, i have that look everyday on my face.
ps: that "prayingly yearning" eye, somehow reminds me the santas' eyes in renaissance paintings.
05/19/2009
Gorgeous shot, Steve. I wish I had something like this included in my In Transit series ;) Love the way you have caught the boy--his eyes are inescapable. Wonderful wide angle shot--the way it is best performed--with a closeup. A favourite.
sasa
05/17/2009
Great shot,
I like the quantity of information on this image and how you manage the composition.
the sade face of the muslin boy work very well with your strong BW treatment.
congrat for this Munbai atmosphere.

Tom

05/16/2009
So cool Steve
not much to say, this is a great picture for me
congrat
••fly••

05/11/2009
I love your B&W work. The perfect amout of detail, noise, mood. I can stop thinking "what if" the kit was looking directly into your lens...

05/10/2009
An excellent shot steve, one of the best that I have seen here. The scene is just great, with the two sides. The live outside and this look incredible, depth and strong. And what to say about the B&W ? ...perfect!

This series can be in a book man! And tell me when you will do it, because I want to bay this book.

Hasta la vista,

Javier

05/10/2009
Excellent representation of "duality", though the outside scene initially gets my full attention, but soon I'm drawn to that quiet seriousness and stoic gaze of the young boy inside the bus. The manner in which his eyes pop out from between the handle of the seat adds to the mystery, as I can't quite figure out what he must be thinking looking back at you...

05/08/2009
Very cool shot, Steve. this one makes me jealous ;o) the way you've got that boy snuck in the very corner of the frame, then opening up onto that "other frame" - the window and the outside world - MUMBAI! (And I've never even been...) Excellent lens work.