/photo view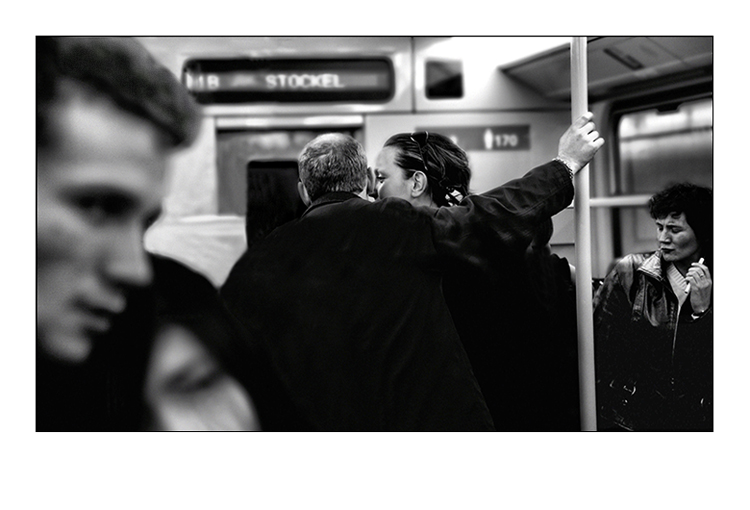 Down there, 3
© Michelle Suzanne

(09-02-2008)

<

Bruxelles

<

Belgium

<

Europe

PHOTO DESCRIPTION

The Brussels subway, very small in comparison to other towns of the same size, it does not cover all the districts, thus forcing people to many changes and combinations with trams and buses. Nobody knows why, probably a compromise in Belgian style :-).

A rather calm day, lovers abounding.
| | |
| --- | --- |
| APN | CANON - Canon EOS 40D |
| Registred camera | CANON Canon EOS 40D with CANON EF-S 17-55mm f/2.8 IS USM (Reflex camera) |
| EXIF information | f:2,8 - 1/60 - 250 ISO (no flash) |
| Orignal filename | phrezimg_1430.jpg |
comments
07/08/2009
Just love it, brilliant how the faces all come together to create a little scene.
06/12/2009
I can't believe I didn't comment on this one at the time. A superb capture and a brilliant composition with the two couples joined by the single woman. I love the placement of the couple in bokeh. By the way, THAT is my metro line to the office (very close to Merode metro station. . .).
04/17/2009
Bonjour Michele,

Very strong shot, the characters are superb and are only matched by a super composition.
Didier

04/14/2009
Michele,
I remember this one from elsewhere:)
Just love the man in the foreground as the first eyecather, then the couple and then that woman...just excellent composition

All the best
Steve
04/14/2009
beautiful composition Michelle. reminds me of Winogrand's daily captures.. best wishes.
04/14/2009
Great shot...what faces...is that James Dean to the left? ;?}
A study in telling stories with faces.
04/14/2009
Une image tres riche avec cette elegance donc toi seule aq le secret. J'aime beaucoup (naturellement) le couple flou en premier plan qui donne echo a l'action centrale. Et pour finir il y a ce visage dedaigneux, qui refuse, a droite. SUperbe!
Fav.
-F